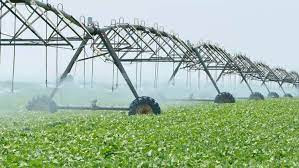 THE Agriculture and Rural Development Authority (Arda) is inviting farmers with irrigable land to enter into a partnership deal to improve summer crop production and enhance productivity in the 2022/23 farming season.
The announcement by the State-owned enterprise under the Lands, Agriculture, Fisheries, Water and Rural Development ministry is part of its drive to guarantee national food, feed, fibre, bio-fuel and seed security.
Arda wants farmers with irrigable land, but have limited resources to extract full value from their land by joining its joint venture programme.
Speaking at last week's CEO Africa Round Table annual conference in Victoria Falls, Arda commercial services director Dominic Sadziwa said: "If you have a piece of land, but you are limited in terms of financial resources, approach Arda, express your interest or apply, we can then enter into a joint venture where we will provide management services to the programme and we will also provide inputs."
The partnership programme means that in terms of profit sharing it will be a negotiated exercise depending on what the farmer brings to the table.
Arda is currently managing 400 irrigation schemes, sitting on about 26 000 hectares of arable land across the country.
"There are opportunities for us to partner with the private sector in the production of various crops at these irrigation schemes," Sadziwa said.
After its restructuring, the parastatal added a commercial agro-service division to its arsenal which provides support services to farmers countrywide, which includes agricultural insurance among other services.
"We also introduced a USSD [Unstructured Supplementary Service Data] platform, where we are actually selling most of the products from the schemes," Sadziwa said.
Arda's timely programme comes as most farmers are experiencing reduced crop outputs as a result of erratic rains.
Arda is also running horticulture gardens and will establish at least a hectare of horticulture gardens in every village nationwide.
"There are 35 000 villages in this country, so we are going to have 35 000 hectares under horticulture production by the year 2025," Sadziwa said.
Arda also has 23 schemes dotted across the country under the dairy development programme, which produce dairy products for local consumption and the export market.
Follow us on Twitter
@NewsDayZimbabwe
Related Topics