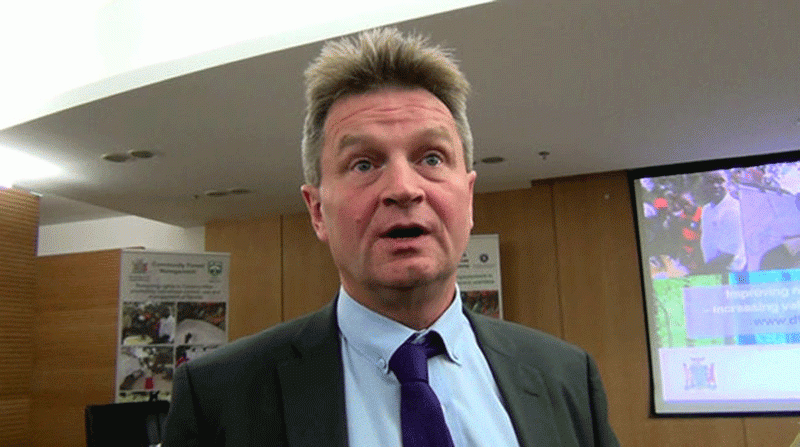 ZIMBABWE'S flawed land tenure system, coupled with land inequalities among citizens has hindered agricultural productivity, outgoing European Union ambassador to Zimbabwe Timo Olkkonen has said.
Olkkonen told NewsDay last week that Zimbabwe has failed to exploit advantages from its geographical location and good soil that could enable it to produce for the global market, largely due to a lack of security of tenure on land.
"If you look at Zimbabwe and the regional capacity, you can see that productivity in Zimbabwe is much lower than its neighbours," Olkkonen said.
"It tells you that Zimbabwe has some challenges in output and efficiency in agricultural production and one of the big issues is the question of security of tenure. During my time I have not seen much progress in this aspect. I am not talking about the land reform, but it is about documentation and bankability — having the kind of documentation in place that is bankable to use for leveraging in loans.
"We had lengthy discussions about creating such a model and that is keeping some of the investors back. Unfortunately, we have had land seizures of Zimbabweans against Zimbabweans. Zimbabwe had an advantage in being a breadbasket not only for the region, but globally because demand will increase with population growth."
Government issued 99-year leases to resettled farmers following the chaotic 2 000 land invasions, but banks have refused to recognise the leases as collateral, arguing that they are not bankable because the land remains State property.
Olkkonen encouraged the government to invest more in agriculture, which he said was more sustainable than mining.
"Zimbabwe produces agricultural products which Europeans want," said Olkkonen.
"Europeans don't produce for themselves because of the Southern and Northern hemispheres issue and there are companies that have taken advantage of this and some sectors that are making good business from that.
"I am passionate about agriculture because usually when you look at the playing field in Zimbabwe, it's mainly about minerals, gold and other minerals whereas Zimbabwe really has an advantage in terms of agriculture, climate and water resources. Unlike minerals, agriculture is a sustainable business."
Agriculture expert Believe Tevera, who is the Tobacco Farmers Union of Zimbabwe president said farmers lacked a sense of ownership of farmland which discouraged investment and full exploitation.
"Farmers are not fully utilising the land because there is a lack of full sense of ownership. Most farmers have not developed their farmlands and productivity remains low at underdeveloped farms. Also farmers have no collateral to access funds from banks to expand operations," Tevera said.
Related Topics