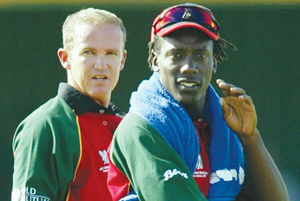 [ad_1]
Like many other African countries, Zimbabwe has a long and storied history with professional sports. Despite lacking the same sized population as some of the larger African countries, this has not stopped Zimbabwe from producing a glittering list of top athletes over the years — some of whom have competed on the most elite professional stages.
There is good reason for this, as Zimbabwe is a country with a strong sporting culture at all levels of society. In fact, despite the tough conditions of the last year during the ongoing pandemic, Zimbabwean sports fans have proven themselves willing to stop at nothing to take part in this national obsession.
With all that said, who are the most famous Zimbabwean athletes?
Andy Flower (Cricket)
When it comes to lists of the great Zimbabwean cricket athletes, you would be hard pushed to find a list compiled on BetFromAfrica.com that doesn't include Andy Flower.
As one of the greatest cricketers the country has ever produced, Flower was one of the players to help put Zimbabwe on the map. As a professional, he captained the Zimbabwe national team for many years, in addition to playing for professional teams in Essex in the UK and South Australia.
During the peak of his career, he even managed to score the unique honour of being ranked the best Test batsman in the world and was also, statistically speaking, the greatest batsman Zimbabwe has ever produced.
David Pocock (Rugby Union)
Although he currently plays for the Australian national team and has also done stints at various domestic Australian teams, David Pocock proudly hails from Zimbabwe. Pocock was born and grew up on a farm in Zimbabwe before migrating to Australia.
Since then, he has had a glittering career in both national leagues and at the international level, having earned numerous caps for the Australian national team. In his personal life, Pocock has built a reputation for himself as a fearsome social justice advocate. He has also been outspoken about both climate change and LGBT rights.
Benjani Mwaruwari (Football)
Benjani Mwaruwari — also known by 'Mpe' — is one of the greatest football players that Zimbabwe has ever produced. Born in 1978, Benjani has had a lengthy career that has been littered with professional successes.
Following his move to Europe in the early 2000s, Benjani played with a Swiss team before getting his start in a number of prominent English football clubs. This has included stints at Manchester City, Sunderland, Blackburn Rovers and Portsmouth.
In addition to his numerous Premier League appearances, this skilled striker has also had a career in the African football leagues, having played for both Chippa United and Bidbvest Wits in South Africa.
Benjani has also played at the international level for the Zimbabwe team and was a member of the squad competing in the 2006 Africa Cup of Nations. Since retiring from international football in 2010, Benjani has worked as an assistant coach for the Zimbabwe national team.
Cara Black (Tennis)
Out of the many great female athletes Zimbabwe has produced over the years, there are few who have achieved the same heights that Cara Black has.Black is a former professional tennis player hailing from Zimbabwe, who was one of the world's best doubles players during her long professional career.
Over the span of her 17-year professional career, Black established herself as a dominant doubles player. In total, she won a staggering 60 WTA and 11 ITF titles in the doubles discipline. This includes 10 Grand Slam titles in both women's and mixed doubles. This earned her a spot as the first ranked women's doubles players and even at one point a thirty-first singles ranking in March 1991.This long list of accolades earned her a cool $7,687,467 in prize money, which also makes her one of Zimbabwe's most financially successful athletes.
Ngonidzashe Makusha (Athletics)
Born in 1987, Ngonidzashe Makusha is a Zimbabwean sprinter and long jumper who is one of the most naturally talented athletes the country has ever produced.Makusha holds the record for both the 100m and long jump, which he achieved during the 2011 NCAA Division 1 Athletics Championships in Iowa. These performances also earned him the unique honour of being one of only five athletes to win both the 100m race and the long jump at an NCAA championship. He was also named 'The Bowerman' following this competition, which is an NCAA prize awarded to the top collegiate track and field athlete of the year.
Makusha's collegiate success has carried over into his international career. He has since gone on to represent Zimbabwe at the international level, most notably earning a fourth place spot in the long jump final at the 2008 Beijing Summer Olympics.
[ad_2] Source link