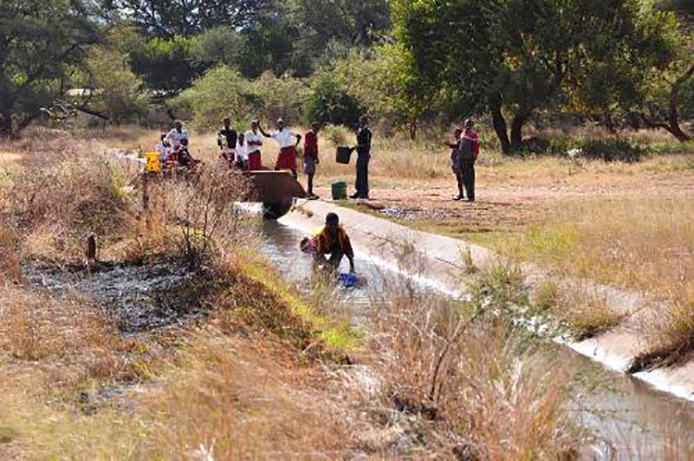 ACCESS to clean water is a human right guaranteed in the new Constitution, but for villagers of Mabonyane, Bhalagwe and Esigodini in Maphisa, Matabeleland South it is a different story.
BY NQOBANI NDLOVU
Only one borehole in Mabonyane sunk by the colonial regime in the 1940s services three villages, as others are either malfunctioning or have run dry.
Long queues are the order of the day as patient villagers crowd the only available source of the precious liquid. In most areas of the country, people have an unlimited access to boreholes – one can decide when and where to draw water, even at night.
In Mabonyane, that is not the case.
After 6pm the borehole is locked till the following morning at 7am. Thabisa Moyo (50) is the vice- chairperson of the borehole committee in Mabonyane.
"We (members of the borehole committee) spend the day at the borehole making sure that there is order, there are no fights and vandalism of the borehole. We have a duty roaster and today it is my turn to ensure people follow the set rules of accessing water," Moyo told Southern Eye during a visit to the area recently.
He added:"We only have one borehole and we had to form this committee to protect it from vandalism so that we are guaranteed water. This has been the case for many years so much so that we now see it as normal though it is very abnormal for us to suffer to have water." Not only does the committee control access to the borehole, it also busies itself searching for funds to fix the only borehole once it malfunctions, Moyo said, arguing that he was not being political. He felt they were neglected by the present government, adding it was a mockery that they relied on a single borehole sunk for their grandparents more than 60 year ago.
"Water is life and I ask why the government does not seize itself with ensuring all citizens have access to water. We need boreholes in this area. Our Mabonyane Dam is also drying up and we fear for our livestock. The least that the government could do is to scoop soil from the dam – dredge it – so that our livestock could have water because the situation is made a lot worse by siltation," Moyo said.
The water crisis is so bad that students from Marinoha Primary, Zamanyoni Primary and Secondary and Tjewondo Primary School have been skipping lessons to search for the precious liquid. A fortnight ago, "Churches in Kezi", a grouping of different church denominations founded in 2008 in that district, organised a meeting at Mabonyane to discuss the water crisis in Maphisa and find SOS strategies to alleviate the crisis. Co-ordinator of Churches in Kezi, Bango Dube said a humanitarian disaster was looming owing to the water crisis, made severe by last year's poor rainfalls.
"A big disaster looms for thousands of livestock and communities and we appeal for urgent intervention," Dube said.
Villagers from faraway villages said they were forced to take turns, using donkey-drawn carts to fetch water at Mabonyane.
"We also try as much as possible to save the water we fetch on a particular day so that we don't burden ourselves coming here every day searching for water," Phanankosi Dube of Esigodini village said.
"I am able-bodied, but you tend to feel for the aged who have no other option, but to use walking sticks coming here to draw water. It is unacceptable. What can they do since this is the only available water source? We appeal for boreholes. The government should hear our cries."
According to section 77 of the Constitution, citizens have a right to clean, potable water.
The United Nations recognises the right to water and calls upon States and international organisations to provide financial resources, help capacity-building and technology transfer to help countries – in particular developing countries – to provide safe, clean, accessible and affordable drinking water and sanitation for all.
The right to water has been recognised in international law through a wide range of international instruments, including human rights treaties, declarations and other avenues.
A villager from Mabonyane Angela Moyo said she loved gardening, and relied on Mabonyane Dam to water her vegetables. Moyo sells the vegetables for survival, but with the dam drying up, she sees her source of income also drying up.
"We already face hunger and it is hard to fathom how we would survive once this dam dries up, what with the borehole malfunctioning," she lamented.