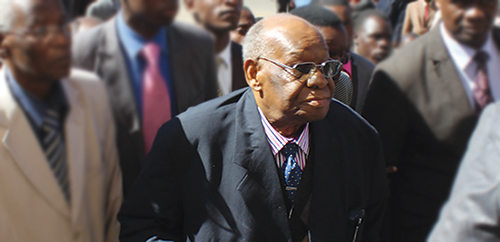 OUSTED Apostolic Faith Mission (AFM) of Africa church leader Tony Tshuma has approached the High Court seeking to stop a rival faction evicting him from the church premises in Bulawayo.
BY SILAS NKALA
AFM reverends Clement Nyathi, Fidelis Morris, Joseph Matongo, Abel Mephulangogaja and Phibion Tagarira Manyowa recently secured a court order authorising them to evict Tshuma from the premises and stripping him of his positions as overseer and president of the church.
The group had filed an application seeking an order barring Tshuma and a church official, Elliot Ncube, from using or visiting church facilities since they were no longer leaders of the church.
High Court judge Justice Maxwell Takuva recently barred Tshuma and Ncube from acting as leaders of the church, or visiting church premises.
Takuva ordered them to release and return control of the church's affairs and activities to Nyathi and his colleagues.
Tshuma has since appealed against the order at the Supreme Court.
On Tuesday, Tshuma and Ncube, represented by Vovan Majoko, filed an urgent High Court chamber application seeking to bar the execution of the order granted by Takuva.
They cited Nyathi, Morris, Matongo, Mephulangogaja, Manyowa and the Deputy Sherriff as respondents.
Tshuma argued that as an overseer he had a duty to protect the church, its members and assets until a ruling by the Supreme Court.
He said there had been no writ issued for Nyathi and his colleagues following the judgment issued by Takuva.
"Acts of violence have been reported and there is fear that the violence would escalate and lead to civil and criminal unrest," he submitted.
Violence erupted at the church in Pelandaba last Sunday where the two factions clashed over use of the church premises leaving some of the members injured.
Nyathi and his colleagues claimed Tshuma used to be a member before he was expelled on allegations of misconduct.
After Tshuma was notified of his ouster, he allegedly teamed up with Ncube to disrupt the smooth administration of the church.
The church approached the courts in November last year seeking an order interdicting the two from interfering with its operations, but Tshuma and Ncube filed a notice of opposition.
The church was formed in 1955 under the leadership of Morgan James Sengwayo in Bulawayo as the Apostolic Faith of Portland Oregon.
When Sengwayo died, the church was plunged into leadership wrangles.
Philemon Sibanda later assumed office of president and overseer of the church.
In 2008 when Sibanda died, the leadership problems resurfaced.
Tshuma's rivals accuse him of imposing himself as president and overseer of the church.
They said without the knowledge of members, another version of the constitution — labelled Constitution of the AFM of Africa International — was drafted.
Tshuma and two others allegedly went on to forge signatures of church members.
The overseer allegedly amended the constitution in 2012 and presented it to the Registrar of Deeds. Nyathi said Tshuma had run the church's business as his personal affair.