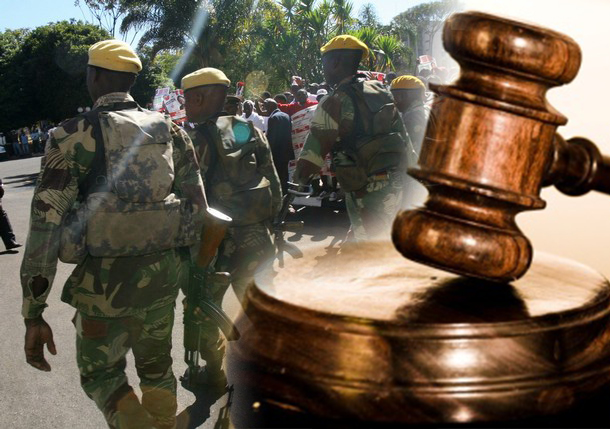 A SENIOR army official at Induna Detention Barracks on the outskirts of Bulawayo has said assaults on detained soldiers were a common practice in army establishments.
BY SILAS NKALA
Zimbabwe National Army (ZNA) Captain Sindiso Sibanda made the remarks last week while testifying in court during an inquest hearing into the death of Alfonce Nhengo (29), who allegedly succumbed to suspected torture while serving a 40-day sentence for an undisclosed offence at the detention barracks.
Sibanda was being cross-examined by prosecutor Jeremiah Mutsindikwa during the inquest presided over by a Bulawayo magistrate Gladmore Mushove.
Sibanda had earlier said she did not see any injuries on Nhengo.
But grilled by Mutsindikwa, she said she saw some bruises on his back when they were lifting him onto the vehicle to take him to the clinic.
Sibanda said: "We asked each other (about the cause of the bruises), but no one could tell what had happened. I only realised that he had bruises on his back when we were lifting him up into the car and it was not an issue for me because at detention barracks we always witness that. Assault is a common thing."
Mutsindikwa asked: "Then do you agree that whatever happened to Nhengo leading to his death happened at the detention barracks? The post mortem report shows that he had 18 marks of violence all over the body including feet, arms and the back."
Sibanda disputed the extent to which the report described the injuries.
The State alleges that Nhengo, of Masvingo, who was a member of ZNA based at 11 Infantry Battalion at Induna Barracks in Bulawayo, died at the United Bulawayo Hospitals sometime in April 2014.
The court heard that army officials asked the pathologist to perform a post-mortem without reporting the matter to the police.
On July 14 2014, Nhengo's relatives reported the matter to the police after they failed to get full circumstances surrounding his death.
Police at Queens Park Police Station started investigations and obtained a post mortem report which detailed the cause of the death.
A post mortem report produced by one Pesanayi showed that Nhengo was severely assaulted leading to his death. The report stated that the cause of death was bronchial aspiration, compartment syndrome and severe assault. The inquest continues this week.