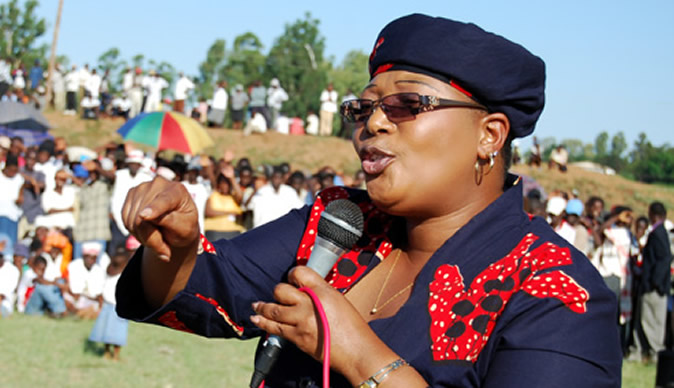 OPPOSITION MDC-T leader Morgan Tsvangirai has thrown his weight behind beleaguered deputy Thokozani Khupe and accused unnamed bigwigs of trying to "destabilise the party leadership".
BY RICHARD CHIDZA
Tsvangirai, according to impeccable sources, read the riot act at a national executive committee meeting at the weekend, declaring Khupe would not be removed, at least not until the next congress.
"The president accused some of the national executive members of trying very hard to destabilise the party and in particular the leadership," the source told Southern Eye.
"He actually indicated he is aware of the shenanigans of some comrades who already had a candidate to replace Khupe.
"He was not amused, but is also aware of the political problems in the party's Matabeleland region."
MDC-T spokesperson Obert Gutu, while confirming that a national executive committee meeting did take place last weekend, refused to shed light on the deliberations.
"Ordinarily national executive committee meetings of the MDC are private issues that can only be discussed if we call for a Press briefing," he said.
"In the absence of such an arrangement it means the deliberations remain the preserve of those that attend such meetings or are privileged to be favoured with what would have transpired.
"I am not, therefore, at liberty to disclose what was discussed".
However, Southern Eye was reliably informed that Tsvangirai, instead of berating his deputy under fire from party hawks on allegations that she is funding or supporting renegade candidates standing as independent candidates in the forthcoming by-elections, sprung to her defence ordering the party's arbiter-general Wilbert Musamirapamwe to investigate the problems.
"Musamirapamwe has been tasked with investigating the genesis of the problems there (Matabeleland) while secretary-general Douglas Mwonzora was tasked to find a political solution," said the source.
"This means the leadership of the party is alive to the delicate nature of the problems in that region."
Mwonzora referred questions to Gutu while Musamirapamwe could not be reached for comment on the matter.
Calls within the opposition party have been growing for Khupe to be shown the exit door for allegedly going against a party decision not to take part in any electoral processes without requisite reforms.
Tsvangirai has been on a whirlwind tour of all constituencies that are set to hold by-elections following the recall of over 20 lawmakers who broke away from the mainstream party last April.
For her part, Khupe has been steadfast daring her opponents in the party to try and do "a Mujuru on me" and instead touting them that "it will not work".
This was in reference to the brutal manner in which former Vice-President and Zanu PF second in command Joice Mujuru was pushed out of office on allegations of abuse of office and corruption.
Mujuru was accused of plotting to remove President Robert Mugabe by force.
Khupe has been accused of undermining Tsvangirai and seeking to depose the veteran trade unionist, a charge she has strenuously denied.