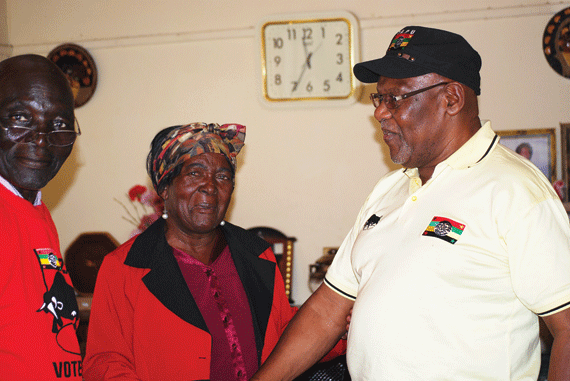 OPPOSITION Zapu leader Dumiso Dabengwa yesterday launched a door-to-door campaign to drum up support for his party's five candidates in Bulawayo ahead of the June 10 National Assembly by-elections.
By MELODY CHIMHAU
The campaigns began in Luveve constituency where former radio personality, Amon Nyamambi, is the party's candidate.
Dabengwa and other Zapu officials also visited Gwabalanda and Cowdray Park distributing "Vote for Nyamambi" flyers to residents.
"It is my duty as a president to back our candidates and I am still to do more door-to -door campaigns as I will be going through all the constituencies where there are Zapu candidates," he said.
"We are doing everything possible to assist the candidates.
"This (participating) was an all of a sudden decision by the party after the opposition (MDC-T) abandoned the seats and we decided that we should take over.
"We want to bring sanity to the National Assembly so that people can pay attention to the economic problems and have faith in Zimbabwe.
"These are some issues that Zapu would want to address to ensure that we have our own development so that people can take initiation."
The Luveve seat is being contested by six other candidates, Morgan Ntuli ( National Constitutional Assembly), Fanuel Tshuma (Transform Zimbabwe), Ntandoyenkosi Mlilo (Zanu PF), Thembelihle Sibanda (independent), Mkhululi Nyathi (independent) and Willias Dube (independent).
Zapu says it wants to use the results of the by-elections to gauge its support ahead of the 2018 elections.
Zanu PF has said it relishes winning the by-elections after the MDC formations boycotted the polls demanding electoral reforms.
The ruling party has not won an election in Bulawayo since the formation of the MDC in 1999.
Zanu PF has rolled out an elaborate campaign that includes the upgrading of roads in Cowdray Park in a desperate bid to capture the seats.