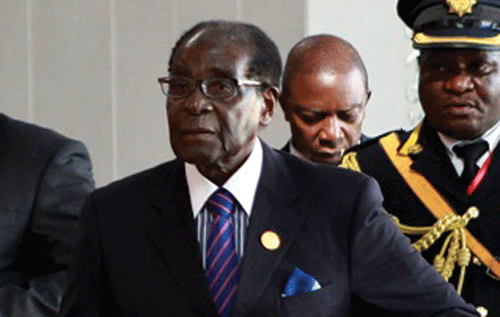 Cape Town – Zimbabwean war veterans have made sensational claims that some elements within the ruling Zanu PF party are working together with Western countries to topple President Robert Mugabe.
In a video posted on You Tube by News Day, Zimbabwe National Liberation War Veterans' Association (ZNLWVA) secretary-general, Victor Matemadanda, said some party bigwigs and cabinet ministers were forming an alliance with the West to oust the veteran leader.
Matemadanda's remarks came following worsening factionalism in Zanu PF's Harare province, as the party prepares for by-elections that are set to take place on June 10.
He was speaking during a press conference in Harare.
Watch the video below as Matemadanda speaks.
"[The] Zimbabwe National liberation War veterans is highly disturbed by the things that are going on within the party . . . We are aware of the unholy alliance that is forming between the Americans and the British on the one hand, and some politburo member on the other," Matemadanda said.
Matemadanda accused the politburo members of selling out to what he termed "imperialists".
"These politburo members have started selling out to imperialist on the premise that they would be given heaven on earth if they remove or help remove president Mugabe from power," Matemadanda said.
Mugabe's Zanu PF party has been rocked by factionalism for a long time as party members battle to stand a chance to succeed the veteran leader.
Foreign hand The battles have seen the ouster of vice president Joice Mujuru and her allies who were accused of plotting to dethrone the president.
Mujuru, however, denies the allegations.
Matemadanda said there was a foreign hand behind the party's internal fights.
"We are aware that the British and the Americans want to reinvest in Zimbabwe and they are hoping to do that by sponsoring whoever helps them to topple president Mugabe," Matemadanda said .
The state owned newspaper The Herald on Wednesday quoted Matemadanda as saying those fanning factionalism within Zanu PF risked being kicked out of the party.
– News24
Related Topics