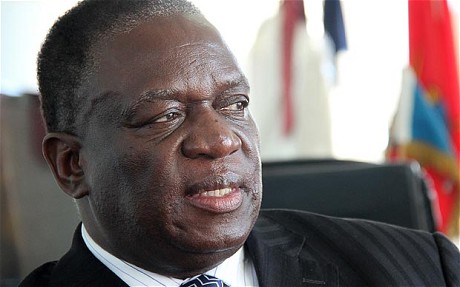 Vice-President Emmerson Mnangagwa today (Wednesday) said operationalisation of the Zimbabwe Investment Authority (ZIA) One-Stop Shop Investment Centre (OSS) is a prerequisite to revive the comatose economy in Zimbabwe that will simplify and quicken investment processes.
BY MTHANDAZO NYONI
The OSS that was launched in 2010 is expected to reduce time taken by investors to get licensed from around 49 days to five.
Zimbabwe is seen as an unattractive investment destination and is ranked number 171 out of 189 countries on the 2014 World Bank Doing Business scale.
Addressing delegates at the ZITF International Business Environment in Bulawayo, Mnangagwa said the economy at the moment was subdued and there was need to complement local investment with foreign direct investment to provide capital and operational requirements of the manufacturing sector, the main driver of value addition and beneficiation.
He said the government remained committed to provide the necessary environment to support business and several initiatives have been put in place to improve business environment.
"One such initiative is the Ease of Doing Business study by the ministry of Finance and Economic Development which seeks to identify impediments to do business in Zimbabwe as well as come up with reforms to improve the situation," Mnangagwa said.
"It is important to note that most of reforms do not require money, but only change in our approach to business. These are reforms we should implement expeditiously as we demonstrate our renewed zeal to develop our economy.
"To this end, operationalising the Zimbabwe Investment Authority One- Stop Shop Investment Centre is imperative since it will simplify and quicken the process of investing in Zimbabwe."
Mnangagwa said another key aspect to consider in effectively increasing value addition and beneficiation was competitiveness.
"Generally, Zimbabwe is a high cost production centre compared to regional economies like South Africa. In order to understand this phenomenon and come up with ways of improving our competitiveness, the National Economic Consultative Forum is co-ordinating the production of a National Competitiveness Assessment Report which is expected to be completed in August 2015," he said.
He added that no meaningful value edition and beneficiation could be achieved without strategic enablers like energy, water and transport. The government is prioritising infrastructure development projects to harness necessary energy.
He said rehabilitation and expansion of the Beitbridge-Harare-Chirundu Road will be commencing soon and is set to facilitate regional integration since that highway is the main link with Sadc.
Mnangagwa urged industries to take advantage of incentives put in place by the government to process local products and export final and semi-processed goods.