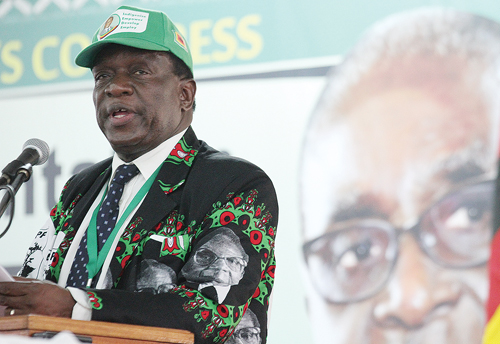 A Zanu PF meeting in Kwekwe ended in chaos yesterday following violent clashes between rival youths as factionalism worsens in the Midlands.
BY BLESSED MHLANGA
The violence at the ruling party's district headquarters was blamed on youths allegedly aligned to suspended official Kandros Mugabe.
Zanu PF officials said the youths, claiming to be part of the party's structures, stormed the meeting, but were blocked by security personnel before they turned rowdy and pelted their rivals with stones.
Former councillor Reason Nyamadzawo's car windows were smashed in the skirmishes.
Police had to be called in to restore order as the youths fought running battles in the central business district.
Mugabe was recently slapped with a five-year suspension from the ruling party on charges of fanning factionalism and disrespecting party leadership.
Zanu PF Midlands spokesperson Conelious Mupereri, who attended the meeting, accused Mugabe of sponsoring the perpetrators of yesterday's violence and vowed tough action against the culprits.
"We were holding an inter-district meeting where we were giving the districts updates on matters that were discussed during the provincial executive meeting held on April 16," Mupereri said.
"The youths came in a vehicle we know belongs to Mugabe and attacked us.
"These people were suspended from the party and now they are causing violence.
"This now calls for another disciplinary hearing and since they are suspended, if found guilty, they can only be expelled from the party."
But Mugabe said he had no hand in the violence and pledged his allegiance to the Zanu PF leadership.
"I will never fund any form of violence. I respect President Robert Mugabe and Vice-President Emmerson Mnangagwa," he said.
"Those people who want to accuse me of violence have an agenda to tarnish my image. I don't stand for personalities, but for the party and I will continue to support the party.
Mugabe also pledged his support to Vongaishe Mupereri the Zanu PF candidate for the Mbizo constituency by-election.