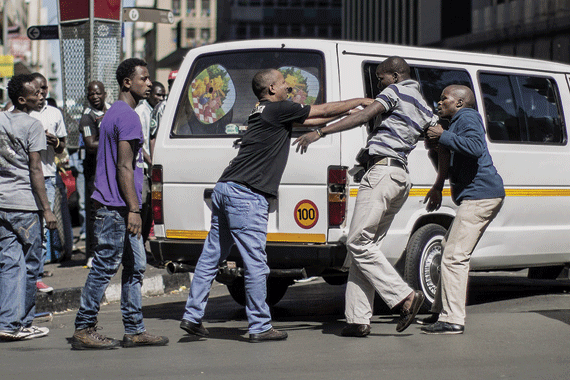 Bulawayo-based cross-border public transport operators yesterday said xenophobic attacks in neigbouring South Africa had hit their business hard as fewer locals were now travelling to the neighbouring country.
BY BENSON DUBE Zimbabweans and other foreigners have been under siege in the past few days after attacks against immigrants erupted in KwaZulu-Natal province.
Attacks have since spread to Johannesburg and Pretoria where the majority of Zimbabwean immigrants live.
Yesterday the government said two Zimbabweans were suspected to have died in the attacks and 800 were displaced.
Cross-border transporters, popularly known as omalayitsha, told Southern Eye their business had taken a serious knock from the ongoing anti-foreigner sentiment in South Africa.
Some drivers said they had been forced to cancel trips at short notice.
Operators said in good times they made daily trip to South Africa, but most of them had not travelled for some days because clients were hesitant.
Anele Dube, a cross-border operator, said few people were travelling to South Africa from Bulawayo.
He said if peace was not restored immediately, business would suffer.
"Business has gone down because of attacks on foreigners by South Africans," Dube said.
"People are no longer willing to travel to that country and if this continues I will be forced to stop the cross-border trips and concentrate on local routes.
"Who would want to go to that country and be burnt like garbage?"
Bongani Ngozi, a conductor for a bus plying the Johannesburg-Bulawayo route said they had seen a significant decrease in the number of cross-border traders travelling to South Africa.
"We used to carry women to South Africa, but we have lost business since these attacks began," Ngozi said. "The Zimbabwean government must intervene to protect lives."
Meanwhile, Bulawayo residents said the xenophobic attacks were an indication of an underlying problem in the South African society.
Mpheni Msimanga, a Bulawayo resident from Bellevue, said African leaders must meet to tackle the crisis in South Africa.
"African leaders must meet with the South Africans to solve this problem amicably," he said.
"Why are the attacks targeting only blacks as if they are the only foreigners?
Sehlule Zondo said the treatment of foreigners in South Africa was inhuman.
He said Zimbabweans threatened by the attacks should return home.
"I never thought a human being could be treated like what I saw on social media," Zondo said.
"Even if the economy is collapsing people must just come home than be killed like animals.
Amanda Mhlanga said South Africans should not take the law into their hands even if they were not happy with the influx of foreigners.