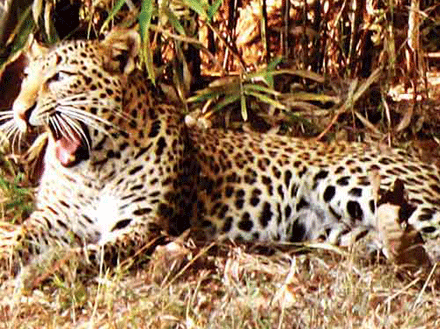 The stray male leopard that has been reportedly roaming in some parts of Solusi for the past four weeks was finally caught last Friday by Hwange National Park rangers, it has been learnt.
Melody Chimhau Own Correspondent Solusi villagers last week said they had been living in fear of being attacked by the leopard, though there had not been any reports of attacks on people or livestock prior to its capture.
The leopard was reportedly captured just outside Solusi University campus, where the Hwange National Park rangers trapped it after following its spoor.
A baboon was used to lure the leopard into the trap close to a small river.
Villagers around the area said they are at peace now that the leopard has been caught, as knowing that it was in their area scared them.
"We are happy that the leopard was captured, we have been living in fear of not knowing when the leopard would attack," Marvellous Nkomo, a villager at Solusi, said.
"I applaud those who captured the leopard for saving us."
In the past there had been quite a number of animals escaping from the parks.
Last year a pride of lions, which was suspected to have strayed from South Africa's Khuse National Park, terrorised Tshikwalakwala villagers in Beitbridge.
The lions attacked and killed several donkeys and cattle.
In another case Bulawayo residents last year were sent into panic after a stray lion was spotted in different parts of the city.
Efforts to get a comment from Zimbabwe Parks and Wildlife Authorities were fruitless at the time of going to print.