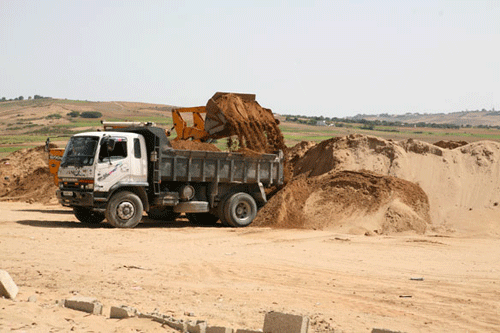 RESETTLED farmers in the Ngamo area under Vungu Rural District Council have turned to sand extraction as a business venture, as farming has proved to yield little given the erratic rains. OWN CORRESPONDENT
Farmers under Ward 16 have been granted licences by the Environmental Management Agency (EMA) to extract sand and stones used for building.
The revelations were made during a media tour to assess sand extraction in the area organised by the provincial EMA office last Friday.
The farmers said sand poachers were digging out sand from their land during the night, hence the reason they decided to venture into the project.
"I realised that it was better to venture into sand extraction and do business instead of losing out to illegal operators," Kesari Chidanhika, a farmer at Plot 65 said.
"We don't expect much from the fields as the crops have wilted from the erratic rains and sand extraction is one way we realised we can make a living from."
Another farmer at Plot 55, Martha Mugaviri, said she did not get inputs in the last farming season and sand extraction was a better alternative for her to earn a living.
Mugaviri, a widow, said besides the unpredictable rains, the soil in her plot was sandy and not suitable for cultivation.
"It is better that I venture into this business (sand extraction) so that I can improve both my homestead and fields," she said.
EMA provincial information and publicity officer, Timothy Nyoka, said there were 27 registered people engaged in sand extraction in the area and that the rest were operating illegally.
Related Topics