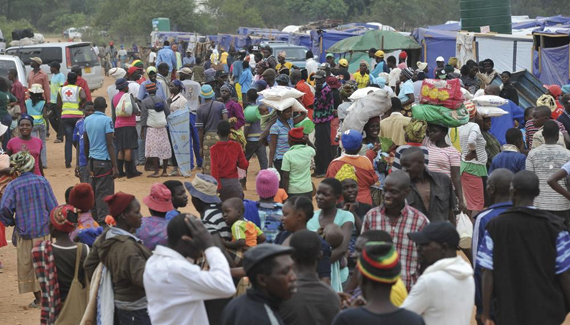 THE troubled 18 000 Tokwe-Mukosi Dam flood survivors, who were forcibly relocated to Nuanetsi Ranch without compensation, have come as cheap and readily available menial labour for sugarcane farmers in the Lowveld, who are feeding off their sweat by paying as little as $1 per day, it has been learnt.
TATENDA CHITAGU OWN CORRESPONDENT
Villagers, some resettled near various sugarcane outgrowers in Triangle, said some new farmers were turning to child labour in a bid to cut costs.
"We are getting a raw deal from these cane farmers," Mejury Rangarirai, who was resettled in the Bongo section of Nuanetsi Ranch, said.
"They are taking advantage of our desperate situation to exploit us.
"Imagine we are weeding their cane plantations for only a dollar a day.
She said they keep on going to do "piece jobs" despite the glaring exploitation because they had no other source of income.
"As we have no source of income, and we did not plant any crops owing to lack of draught power, as well as the unsuitable land here, we are forced to go to cane farmers to look for some money to buy foodstuffs," Rangarirai said.
"We were left with nothing after the flooding disaster."
She called on the government to intervene by either improving their living conditions or ending the exploitation.
Efforts to get a comment from the Zimbabwe Sugarcane Development Association chairperson Edmore Veterai were fruitless yesterday as his mobile phone was switched off.
However, the Coalition Against Corruption in Zimbabwe national co-ordinator Pascal Masocha last year confirmed rampant child labour in Chiredzi sugar plantations and said they had launched a campaign to facilitate the return of more than 1 000 former child labourers to school in the past three years.