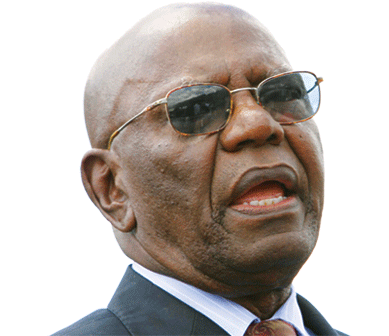 FORMER Zanu PF secretary for administration Didymus Mutasa yesterday took President Robert Mugabe to court soon after he was expelled from Parliament at the behest of the ruling party.
STAFF REPORTERS
Mutasa and former secretary for information and publicity Rugare Gumbo joined hands to challenge their recent expulsions from Zanu PF for allegedly supporting former Vice-President Joice Mujuru's presidential ambitions.
The court challenge filed at the High Court by the pair's lawyers Nyakutombwa and Mugabe came a few hours after Mutasa had been stripped of his Headlands parliamentary seat alongside Hurungwe West MP Temba Mliswa by Speaker of the National Assembly Jacob Mudenda.
Mutasa and Gumbo cited Mugabe, Zanu PF and party spokesman Simon Khaya Moyo as respondents.  The two said they were seeking to challenge the "unlawfulness and unconstitutionality of certain appointments and decisions that were made and of certain constitutional amendments that were made during the party's congress".
Gumbo was fired from Zanu PF last December on yet to be proven allegations of conniving with Mujuru to topple Mugabe. Mutasa was fired a fortnight ago for publicly denouncing the party's congress, describing it as a legal nullity.
Mutasa and Gumbo are adamant the Zanu PF December 2014 elective congress, which saw the summary dismissal of party officials linked to Mujuru, was illegal.
In his founding affidavit, Mutasa accused Zanu PF of breaching his and Mujuru's rights by making unfounded allegations against them and convicting them without giving them an opportunity to defend themselves.
"The Constitution of Zimbabwe respects the right to human dignity in terms of Section 51 of the same," he said.
"The manner in which allegations were made against myself and Vice-President Mujuru; allegations that included malicious and defamatory contentions, clearly infringed our right to human dignity."
Mutasa said the "lawlessness of the congress resulted in a clear breach of his right and others to equal protection of the law as guaranteed by Section 56 (1) of the Constitution".
He said both the Zanu PF congress and politburo had no locus standi to expel anyone from the party without due process.
"The state of siege, intimidation, hate speech and unlawful media campaign unleashed against the so-called Mujuru camp resulted in a totally unfree, unfair and illegitimate congress and pre-congress processes," he added.
Meanwhile, Mutasa was not in the National Assembly yesterday when the announcement to expel him was made, but Mliswa, who was present, left in a huff as soon as Mudenda started reading out his verdict.
"I was informed by Zanu PF that both Mutasa and Mliswa have ceased to be members of Zanu PF and, therefore, no longer representing the interests of the party and Parliament in terms of Section 129 (1) (k) of the Constitution," Mudenda said.
Zanu PF has previously dismissed reports that it would expel MPs with alleged links to Mujuru.