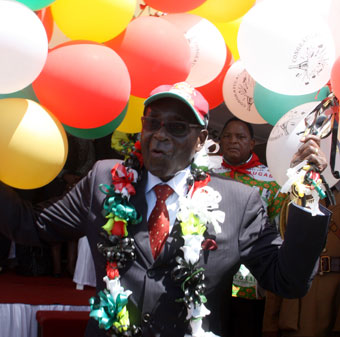 PRESIDENT Robert Mugabe turns 91 tomorrow and he might be feeling lonelier than ever before.
NQOBANI NDLOVU STAFF REPORTER
Two years ago Mugabe said he was lonely and was surrounded by "small people", saying the only person whom he could relate with was then Zanu PF secretary for administration Didymus Mutasa.
With Mutasa, 11 years Mugabe's junior, fired, the people around the president may have just become even "smaller".
"And so you can't discuss with them things that happened in the 1930s or even 1950s," Mugabe was quoted saying in an interview with ZBC to mark his 89th birthday.
"They will not know. There is that limitation."
Then Mugabe said Mutasa came close to understanding him, but the rest were "children".
"You take my Cabinet as it is, there is no one I can talk to about how we used to approach girls or we would go to this and that place, riding bicycles," he said then.
"There is no one. There are others like Mutasa. He comes close, but others are just children, the likes of (Webster) Shamu, (Nelson) Chamisa.
"You feel that loneliness. You have lost others and sometimes you think of it and it makes you very lonely.
"They are gone (agemates) and those who remain, you look down upon them because they are young.
"They have not had the same experience, the same length of life and, therefore, the same advantage of gathering as much knowledge and experience as yourself."
At 91, Mugabe hardly has any peers left, with his fellow liberation war stalwarts like vice-presidents Joshua Nkomo, Simon Muzenda, Joseph Msika and John Landa Nkomo all dead.
Regionally, Mugabe has lost several peers, while others have retired from active party politics.
He said there was no one even in his family who could give proper advice as most relied on him as the elder.
Most of his family members have died.
"The consoling part of it is that, well fine, there are young ones and young minds you can talk to," he said then.
"You can try to educate, you can also try to relate a bit of history to and so on and so forth.
"But they remain young ones who listen much more than they share ideas with you."
Despite old age, Mugabe has vowed to press on.
To many a Zanu PF supporter, Mugabe is a warrior against imperialism and Western domination and should keep fighting for the betterment of lives of black Zimbabweans, while his opponents accuse him of being a dictator who has overstayed in power.
The MDCs urged him to use his 91st birthday celebrations to reflect on the need to step down immediately with MDC-Renewal spokesperson Jacob Mafume saying "this calls for Zimbabwe to put an age cap on the presidency".
Obert Gutu, the MDC-T spokesperson said: "He should ask himself whether he is doing himself, his family and all Zimbabweans any good by holding on to the presidency at that very advanced and ripe age."