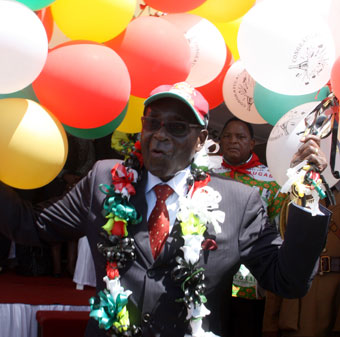 THE ruling Zanu PF youth league is pushing the government to declare President Robert Mugabe's birthday a national holiday in honour of the president, it has been learnt.
MOSES MATENGA STAFF REPORTER
Mugabe turns 91 next week on Saturday.
Zanu PF secretary for youth affairs in the politburo, Pupurai Togarepi, told the party's newspaper, People's Voice, that February 21 would be dedicated towards celebrating Mugabe's political achievements since independence in 1980.
Togarepi said the proposed Robert Mugabe Day would be celebrated in the same manner South Africa commemorates Nelson Mandela Day.
"As (Zanu PF) youth league, we are proposing that there must be Robert Mugabe Day on our national calendar in recognition of the immense contributions he has made to Zimbabwe," he said.
But the opposition MDC-T yesterday rubbished the proposal, saying declaring a holiday in honour of Mugabe was tantamount to "personalisation and deification" of the country's political heroes.
MDC-T spokesperson Obert Gutu said there was no logic in the Zanu PF youths' request.
"As the MDC, we are against personalisation and deification of our political heroes," he said.
"There is absolutely no sound and logical reason why Zimbabwe should set aside a public holiday to commemorate the so-called Robert Mugabe Day.
"We already have the Heroes' Day holiday on our calendar and its main purpose is to pay homage to the gallant sons and daughters of the soil who paid the ultimate sacrifice to ensure that we gained our independence in April 1980.
"Robert Mugabe is one of several nationalists who played a prominent role in our struggle for independence and as such, there is absolutely no need to create a public holiday (in his honour)."
Gutu added: "There are several other heroes like Herbert Chitepo, Joshua Nkomo, Josiah Tongogara, Alfred Nikita Mangena, of the same national standing if not higher than Mugabe.
"Does it mean, therefore, we should have a Herbert Chitepo Day, a Josiah Tongogara Day, Joshua Nkomo Day and so forth? "Should that be the case, then every day in Zimbabwe will be a public holiday."
On the other hand, political analyst Ernest Mudzengi described the proposal as noble. "Personally, I don't see anything wrong with having such," he said.
"Mugabe is a liberation war icon and that is a fact.
"I don't think it's wrong.
"However, what we don't need is honouring him in a partisan manner for what he did. The liberation struggle was not for Zanu PF alone, but for Zimbabwe.
"I appreciate his role in the liberation struggle. There have been mistakes he made along the way, but if the call is genuine and not driven along partisan politics, I don't see anything wrong."