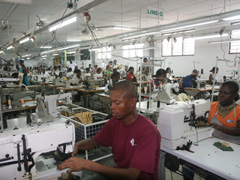 ZIMBABWE's clothing sector is importing more than 45% of its fabric requirements after local cotton output fell by over 60% in the last three years as farmers moved to more viable cash crops, an industry official has said.
According to the cotton ginners association, cotton output fell to 136 million kg in the 2013 to 2014 season from 145 million kg the previous year, compared to 350 million kg in 2011 to 2012.
During the 2013 to 2014 season, Zimbabwe recorded its lowest level of cotton output in four years, as farmers shifted from cotton production to better paying crops such as tobacco.
"The value chain has been broken and we are importing more than 45% of our fabrics. Besides, we are also importing cotton as our farmers do not produce enough. Only 10% (of farmers) if not less are still trying to produce cotton," Crispen Mugova, a director with Main Protective Clothes, said.
"Importing fabric and cotton is very expensive. It also takes about four months to deliver and per year one can get only three deliveries. We cannot rely on local supplies because there is no consistency. As such, our production has been affected."
Mugova, who is also the Zimbabwe National chamber of commerce chairperson for Matabeleland, said local firms were looking for export markets, particularly Mozambique to escape competition from cheap imports products from China and other countries.
In April last year, the common market for Eastern and Southern Africa and the European Union availed €4,2 million under the Zimbabwe Cotton-to-Clothing Strategy to improve capacity of local cotton and clothing sectors.
The programme, which runs up to 2019, would help small and medium enterprises in the sector by granting them access to the bloc, duty and quota free.
Recently, Agriculture minister Joseph Made said  government had stepped up support to cotton producers in the current season, with the aim to improve yields and quality by distributing seed, fertilizers and pesticides to 350 000 farmers. – The Source