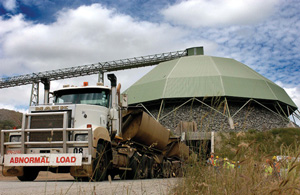 IMPALA Platinum-owned Zimplats is on course to operationalise its base metal refinery by June next year, according to its chief executive Alex Mhembere.
In an interview, Mhembere said the mining giant would start receiving equipment for the smelter in October.
"We started placing orders of long lead items in July 2014 for the BMR (base metal refinery) plant," he said.
"They are being manufactured now and we expect to take delivery in October this year. We will continue to place orders for shorter lead items as we go along. We believe that by June next year, we should be able to restart the smelter. The equipment is coming from various places, including local firm, Cochrane."
The rehabilitation exercise is expected to consume $100 million, while expansion of the plant's circuits to accommodate its annual output of 270 000 ounces will push the budget to $190 million.
The firm will seek to further develop the base metal refinery into a precious metal refinery and put up more furnaces to accommodate material from other local miners at an additional cost of $500 million.
Beneficiating the platinum to matte enables producers to realise 88,5% of potential revenue; at base metal refinery stage they get 89,7%, rising to 90% at precious metal stage.
This week the government said platinum mining companies should demonstrate tangible progress towards building beneficiation facilities for government to scrap the 15% tax on raw platinum exports.
— Fin24