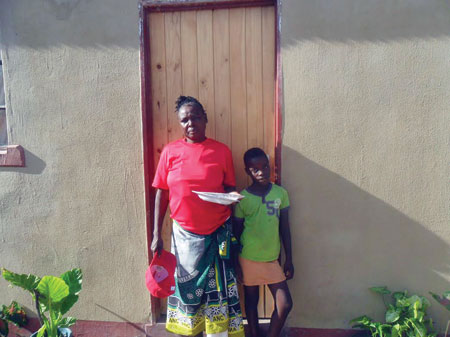 THE MDC Veteran Activists Association (MDCVAA) on Saturday handed over a two-roomed house to Regina Ndlovu, a victim of political violence who stays in St Peters on the outskirts of Bulawayo.
PAMENUS TUSO OWN CORRESPONDENT
Ndlovu is among eight MDC-T activists whose houses were allegedly burnt down by Zanu PF supporters during the run-up to the 2002 and 2008 elections.
MDCVAA, which consist of victims of political violence and stalwarts, who have been active in the party since 1999, funded the reconstruction of the house under the association's "A Dollar, Dollar House" project.
The housing programme which was launched at Ndlovu's homestead last October is expected to be rolled out to other provinces.
Speaking at the handover ceremony, MDCVAA national chairperson Victor Nzunza said his organisation had decided to come up with the programme after realising that the party was not doing anything to assist victims of political violence.
"As founders of the MDC, we could not continue to sit down while victims of political violence wallowed in destitution," he said.
"The party has never done anything for these people yet the victims lost their properties for the cause of the party."
The chairman said ordinary MDCVAA members contributed towards the construction of the house.
Following the launch of the programme, Nzunza said the association had received overwhelming inquiries from victims of political violence across the country, who wanted assistance.
"In the next few months, we will be rolling out this project in the provinces for all those members whose houses were destroyed," he said.
"We are going to reconstruct some shops for our members, which were destroyed by Zanu PF supporters."
Speaking at the same occasion, the party's former deputy secretary-general Tapiwa Mashakada condemned the sidelining of veterans in the party.
"We are now bringing in friends and strange people into the party while kicking out the real founders," he lamented.
"We know some politicians are pressuring the party's leadership to drop certain people from positions in the party."
Some MDCVAA members who attended the launch include Chitungwiza senator James Makore, Bulawayo mayor Martin Moyo and several legislators.