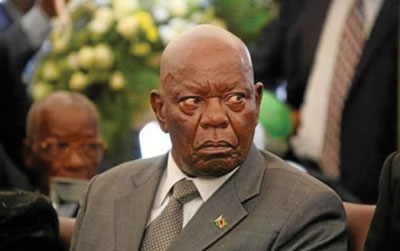 FORMER Zanu PF secretary for administration Didymus yesterday survived expulsion from the ruling party, but a group of National Youth Service (NYS) recruits, popularly known as Border Gezi, have threatened unspecified action on the former Presidential Affairs minister. Nqobani Ndlovu/ Moses Matenga
Mutasa's fate now rests on a committee which includes his arch-nemesis, First Lady Grace Mugabe.
A politburo meeting in Harare yesterday was widely expected to expel Mutasa following a recommendation from Manicaland province, but it seems the party baulked at the idea, at least for now.
Party spokesman Simon Khaya Moyo told journalists that Mugabe had appointed his wife to sit in the Zanu PF disciplinary panel in whose hands Mutasa's fate now lies.
He defended Grace's inclusion saying it was the norm that secretaries for the women and youth leagues should be part of the disciplinary committee.
Other members of the panel are political commissar Saviour Kasukuwere, secretary for legal affairs Patrick Chinamasa, secretary for security Kembo Mohadi and secretary for youth Pupurai Togarepi.
The committee to be chaired by Vice-President Phelekezela Mphoko was announced following a politburo meeting, which Mugabe briefly chaired before flying out of the country to attend the African Union Summit in Addis Ababa, Ethiopia.
Mutasa has threatened to seek nullification of the ruling party's December elective congress resolutions.
Moyo said the committee was expected to meet soon and conduct Mutasa's hearing.
Grace is presently recuperating in the Far East after undergoing a medical operation and is due in the country sometime next month. This could further delay the sitting of the committee.
"The issue of our former secretary for administration Cde Didymus Mutasa was raised and has been referred for consideration or deliberation to the new national disciplinary committee," Moyo said.
"They (committee members) have been entrusted with deliberating on the issue in reference to utterances and remarks he has made about congress and the party."
Mutasa lost his central committee post in Makoni and was subsequently relieved of his all-powerful secretary for administration post after he was linked to a team of "party rebels" led by ousted ex-Vice-President Joice Mujuru.
The Headlands MP was also fired from Cabinet post as Presidential Affairs minister alongside 14 other ministers and their deputies on allegations of conspiring to clandestinely topple Mugabe from the helm of Zanu PF and the government.
But Mutasa has been fighting for the nullification of the congress resolutions claiming it was held unconstitutionally.
Meanwhile, the Border Gezi graduates threatened unspecified action against Mutasa after condemning him as a threat to the revolution.
NYS graduates association spokesperson Calvern Chitsunge told journalists yesterday at a press conference held at Zanu PF's Bulawayo Davies Halls offices that they would evict farmers they accused of having acquired farms through close ties with Mutasa.
"The Zimbabwe National Youth Service Graduates' Association (Bulawayo Chapter) stands its ground and warns Mutasa, Rugare Gumbo and their allies against their fighting of the tested and tried leaders of Zanu PF that came out of the will of the people of Zimbabwe at the sixth Zanu PF national people's congress," he said.
"May his (Mutasa's) team be warned here and now that the NYS Graduates' Association will not fold hands and let him do what he wants at the cost of the ordinary Zimbabweans, but we are ready to tackle him if need arises."
Chitsunge was, however, not committal when questioned on what kind of action they would take against Mutasa, preferring to only say "we are not at liberty to tell you the kind of action we will take, but we will take appropriate actions and stop him and defend the revolution".
"We were trained by the government to defend the revolution . . . we are on our way to claim all the farms, which he parcelled to his regime-change followers without following the correct procedures as enacted in the laws of the country," he said.