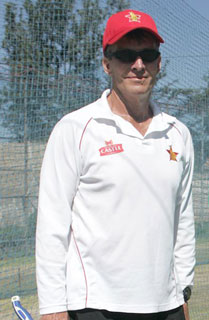 ANDY Waller has bounced back into the Zimbabwe national cricket team coaching set-up barely seven months after being cast away. KEVIN MAPASURE SENIOR SPORTS REPORTER
Waller has been roped in as batting coach at the request of national team coach Davenell "Dav" Whatmore, while Walter Chawaguta comes in as fielding coach.
Zimbabwe Cricket (ZC) board chairman Wilson Manase confirmed the appointment of Alistair Campbell as managing director cricket affairs at a press briefing in Harare yesterday.
Waller was reassigned to the post of director of coaching last year, after he was removed from the post of national team coach with Steve Mangongo taking over.
Mangongo was subsequently fired after Zimbabwe's tour to Bangladesh where the team lost all matches in both Tests and limited overs series.
As preparations for the 2015 global showcase in Australia and New Zealand gather pace, ZC has beefed up the technical department ahead of departure on Wednesday.
Waller's contract with ZC ends in April, but it is likely he will get another deal to continue as batting coach.
Whatmore — who signed a three-month contract with ZC — has indicated he is willing to sign a long-term contract after the World Cup.
ZC failed in their bid to land former captain and national team coach Dave Houghton to come in as batting coach.
On Campbell's appointment, Manase said they had considered the former national team player's experience and expertise to give him the crucial post.
"Campbell has got knowledge of the game and has acquired experience in the administrative side," said Manase.
"We thought he was the right man to carry us forward and he can help improve the commercial side of the game. We have set ourselves targets to get into the top eight of the International Cricket Council one-day international rankings and we want Campbell to develop the structures."
Campbell said he was pleased that ZC had realised the need to change the way the game was run after what happened in Bangladesh. "I am glad to take up this post," he said.
"I have worked for ZC before in other roles, but this one is an executive one. I am looking forward to the challenge and the target is for us to qualify for the 2019 World Cup.
"There are dire consequences that come with failure to qualify. We need to nurture talent and that is what we set ourselves to do. We need to get the young talent the best coaches so that we produce a competitive side for 2019."
Campbell said he would engage both local and international corporates to fund the game and its developmental programmes.
On the immediate task of the 2015 World Cup, Campbell said they had come up with a technical team that would help the squad compete against top sides and beat Ireland and United Arab Emirates.
"In appointing Waller we wanted someone who has worked with the team before and who has got the experience," he said.
"We considered other candidates, but the coach requested that we bring in Waller and Chawaguta and it was best to give him what he asked for." Campbell said that ZC would consider retaining the technical team set-up after the World Cup.
Related Topics