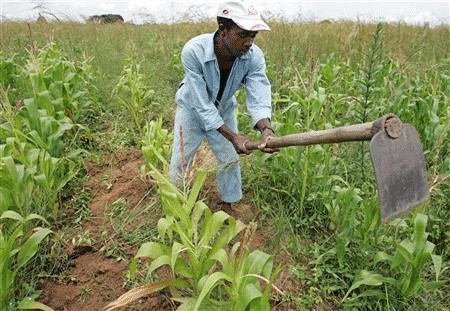 HUNDREDS of Zanu PF supporters, hungry for cheap farming inputs, were allegedly duped by a Murehwa-based company, which collected money with promises of delivering inputs, but failed. BLESSED MHLANGA STAFF REPORTER
Nelmah Holdings, fronted by Nelson Mahupete (44), is alleged to have collected more than $46 000 in instalments for payment for farm inputs from desperate farmers through the then Zanu PF Kwekwe Rural district co-ordinating chairman John Chademana.
The loan scheme, which would have seen each farmer receive eight 50kg bags of Compound fertilizer, six of ammonium nitrate fertilizer and a 25kg bag of maize seed suffered stillbirth after Mahupete allegedly disappeared with the money.
Appearing before Kwekwe resident magistrate Taurai Manwere, on Tuesday, Mahupete pleaded not guilty to the charge of fraud levelled against him by the State.
The State, which opened prosecution on the matter which allegedly took place in 2011, alleged that Mahupete, through his employees, duped Chademana and 372 other farmers by asking them to each deposit $32 per hectare, if they were to access inputs through their loan scheme.
Led by Chademana, the farmers collected and deposited a total of $46 384 into Nelmah Holdings account held by CBZ.
Despite making the deposits by January 2012 and providing proof of payment, the State led by Fortunate Mbizvo alleges the farmers are still waiting for the delivery of farm inputs.
Nelmah Holdings is also allegedly involved in another scam, which saw one of Zimbabwe's top seed producer SeedCo losing 500 tonnes of maize seed worth over $900 000 to sales and distribution manager Cassian Manuhwa, his colleagues and the company in a well-orchestrated scam.
Mahupete was remanded in custody to January 30 after the State opposed bail.