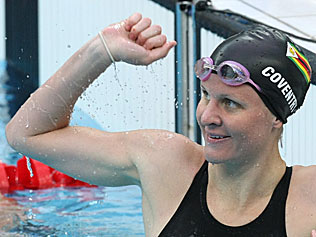 KIRSTY Coventry put on a commendable display on her return to competitive swimming reaching two individual finals at the Austin Arena Pro-Swim Series meet which ended on Saturday at the University of Texas in the United States.
DANIEL NHAKANISO SPORTS REPORTER
The Zimbabwean seven-time Olympic medallist concluded her campaign at the three-day meet by finishing fourth in the 200m individual medley final on Saturday evening.
Coventry, representing the SwimMAC Elite team narrowly missed out on a podium as she came fourth in 2:15.89secs after having earlier scratched the 100m backstroke from her schedule to focus on this race.
Hungary's Katinka Hosszu won the gold medal as she clocked a 2:11.43secs ahead of American Caitlin Leverenz (2:11.84secs) and Hilda Luthersdottir, who finished third in 2:15.12secs.
Coventry later explained her decision to scratch the 100m-backstroke, saying she was happy with her time on the way to finishing sixth in the semi-finals.
The 100m-backstroke event is one of Coventry's favourites, having broken the World Record in 2008.
"Another good day back in the pool. I was happy with my time in the 100m backstroke, so I pulled out of the finals to focus on 200m individual medley — came fourth Rio2016," Coventry tweeted Saturday evening.
Coventry had earlier started her campaign on a positive as she was part of the SwimMAC Elite relay team which finished second in the 4x200m freestyle before finishing in 9th position in the 200m backstroke in 2:13.17secs.
"It feels great to be racing again. Ninth in the 200m backstroke and second in the 4x200m freestyle relay. A great foundation to work from," she said then.
Coventry will be satisfied with her performance at Austin Arena Pro-Swim Series meet as it was her first swimming competition since announcing her intentions to compete at the 2016 Olympics in July last year.
The 31-year-old swimming sensation has been training at her US base in Charlotte, North Carolina, for the past six months and would be hoping to use this weekend's performance as a springboard towards qualification for the 2016 Rio Olympics.