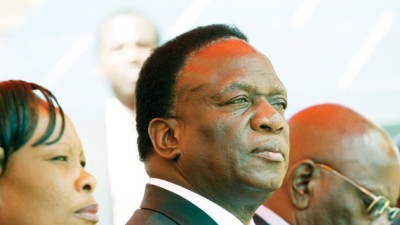 ACTING PRESIDENT Emmerson Mnangagwa has announced that his wife, Auxillia, has submitted her CV to contest the Chirumanzu-Zibagwe constituency, which fell vacant with his elevation to vice-presidency.
Stephen Chadenga OWN CORRESPONDENT
In a clear endorsement of his wife and a move to clear her path, Mnangagwa jokingly told members of the Midlands provincial co-ordinating committee (PCC) at the Gweru Zanu PF convention centre yesterday, that he had "heard" that his wife had submitted her CV, but urged party members not to be intimidated by her move.
"I heard Mai Mnangagwa submiited her CV to contest in the by-election in Chirumanzu-Zibagwe," he said.
"Do not be intimidated that she has shown interest; whoever wants to submit their CVs should feel free to do so."
President Robert Mugabe announced that nomination courts will sit in Bindura and Gweru magistrate courts on January 29 in terms of Section 46 of the Electoral Act Chapter 2:13 to receive nominations of candidates for election in Mt Darwin West and Chirumanzu-Zibagwe.
The elections will be held on March 27.
Newly-appointed political commissar, Saviour Kasukuwere, also jokingly asked delegates if there was anyone who saw themselves fit to challenge Auxillia, a clear indication they wanted to impose her as the Zanu PF candidate.
"Who among you would want to contest Mrs Mnangagwa?" he asked.
"No, I haven't come here to support Mrs Mnangagwa, everyone is free to submit their CVs."
Kasukuwere said the politburo would uphold a Manicaland PCC decision if it resolved to expel former party secretary for adminstration, Didymus Mutasa.