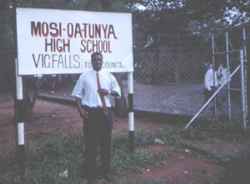 PARENTS of prospective Form 1 students at the council-owned Mosi oa Tunya High School have accused school authorities of charging exorbitant school fees, amid reports the school was charging $100 for school uniforms, an amount they said they could not afford considering the biting economic situation.
Richard Muponde/ Nokuthaba Dlamini
Parents and guardians are expected to pay a total of $256 in school fees, which they believe is unreasonable.
Parents, who spoke on condition of anonymity, said the figure included $79 for a bus, which was already acquired and was being hired out to residents.
"It's unfair, where do they think we get that money?
"They are charging fees which are close to those being charged by boarding schools.
"Do you think it's realistic for a day school in Chinotimba suburb to charge that amount?" the parent asked.
Her sentiments were echoed by another, who accused school authorities of ripping off parents and asked for the government to intervene.
"I think the Primary and Secondary Education ministry should intervene and save parents from this daylight robbery," he said.
"Where in this country do you buy a pair of uniforms for $100?
"This is daylight robbery."
Contacted for comment the school head Ronald Sibanda justified the fees and accused the parents of being petty.
"The bus is available for the children not for business," he said.
"We have never used the bus for hire except once, when there was a church trip at Seventh-Day Adventist Church and we also use the bus to carry some community members, but not on business.
"The same bus that they bought needs to be maintained and be well serviced, that's why we ask them to pay that amount."
Sibanda said most parents did not attend school development council meetings, yet they were the first to throw accusations about.
"As for the uniforms, Mosi used to be a colour blocking school without a proper uniform, so we then decided to start buying uniforms and sell the complete set to students," he explained.
"We only get a profit of $2 out of that $100 and with the same money we have managed to buy a mini bus and the school now has four buses."
His sentiments were echoed by the school development committee chairperson, Christopher Masakwadzi, who said parents owed the school too much money, with some of the parents going for four years without paying school fees.
"Most parents just send their children to learn for free and as we speak the same parents owe us about $488 000 but they keep saying we are abusing their money," he said.
"School fees have always been $79 since 2011, but they fail to pay that money.
"As for Form 1s, people who are giving us problems are those parents who have children who failed dismally at Grade 7 and they were not accepted at other better schools that's why they are now coming here to cause havoc knowing that Mosi takes everyone.
"Parents who had secured places for their children last year are quiet because they know how we operate."
Since 2012 Mosi oa Tunya has been yielding good results at 'O' and 'A' level.
In 2013 it came top in Matabeleland North with one student producing 11 As. The school, for the first time since its establishment, is going to begin teaching science subjects at 'A' Level.