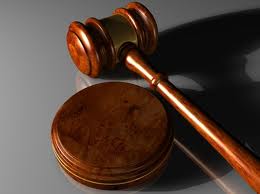 GROUP chairman for Perfect Shot Investments — a company that was allegedly running a pyramid scheme in Bulawayo — Kelvin Mazhandu, who was out of custody on $2 000 bail, was yesterday locked up in remand prison after he and a colleague Daniel Dukunye (23), skipped bail for 30 days.
SILAS NKALA STAFF REPORTER
The two were rearrested at the Bulawayo Magistrates' Courts second floor after they visited the court reportedly to try and have the warrant of arrest issued on them cancelled.
Yesterday they appeared before Bulawayo Regional Court magistrate Trinos Wutawashe for a ruling in their contempt of court charges for skipping bail.
Representing them, Blessing Sengweni, who was instructed by Mlamuli Ncube, submitted that Mazhandu had fallen ill for a long time, leading to him missing court dates.
However, he could not give the reasons why he or his lawyer failed to make a report to the courts over the illness.
"He was also dealing with quite a number of clients and was receiving a lot of threats from them," Sengweni submitted.
"He has been away. He went to Harare due to the threats and only came to seek cancellation of warrant of arrest."
He said if Mazhandu had remained in Bulawayo, he risked being attacked by clients he owed money to following the collapse of the pyramid scheme.
But prosecutor Tinashe Dzipe shot Sengweni's submissions down as invalid and unreliable.
He questioned why the two accused failed to attend court if Mazhandu was facing threats from outside.
"The claims by the defence do not hold," Dzipe said.
"He cannot claim that he was ill yet he does not bring to this court any evidence to show that.
"In fact, on the claim that he was receiving threats from outside, then the safe place where he could be free from those threats would be in custody.
"The fact that he skipped bail makes him deserve to be remanded in custody."
Sengweni challenged Dzipe's submission, saying the fact that the two had brought themselves to the court meant that they were not a flight risk and questioned if it was legal for an accused to be in the dock while in leg irons.
Following their arrest yesterday, the two were handcuffed and put in leg irons.
But Dzipe insisted the remarks by the defence were untrue and their lawyer should have appeared in court to say they were ill after a warrant of arrest was issued on November 7.
The magistrate seemed to concur with the State, saying the court would not give Mazhandu time to produce a medical report, as he was being charged with fraudulent activities and could likely produce a fake doctor's note.
He then remanded Mazhandu in custody pending proof whether they brought themselves to court or were arrested away from the courts.
Dukunye was remanded out of custody after he told the court that he had tried to look for his lawyer to tell him of his problems, but the attorney was not available.
Mazhandu was arrested after he was involved in an accident while driving to South Africa in what was suspected to be an escape bid when clients had filed police reports that he had defrauded them.
More than 100 clients had invested their money in his company and he was accused of swindling them after the investment scheme collapsed with huge sums of them money owed.
His company, registered to deal in mining, was fined $2 000 for violating the Banking Registrations Act after it engaged in money investment business by mobilising funds and accepting deposits from the public without a banking licence.
The company's managing director Dukunye was taken to court by the Reserve Bank of Zimbabwe (RBZ), representing the company, after their offices at Suite 703, 7th Floor, Pioneer House, Bulawayo, were raided by central bank officials.
The RBZ discovered that the company was mobilising funds and collecting deposits from the public unlawfully.
Dukunye had pleaded guilty to the charge on behalf of the company in court leading to the company being convicted and fined.
Twitter feedback @silasnkala
Related Topics