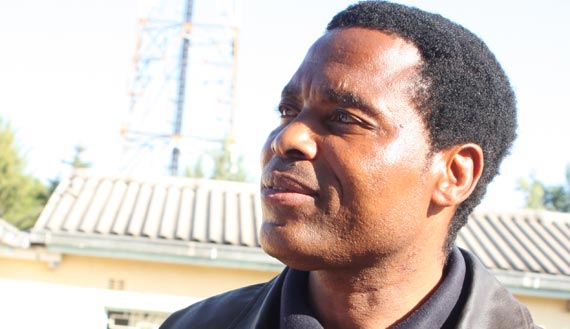 DOES anybody really know what crime axed war veterans boss Jabulani Sibanda is being detained for?
Sibanda has been behind bars for four days and the prosecution in his case seems to be struggling to come with a charge that could stick.
Sibanda appeared in a Harare court on Monday facing allegations of insulting or undermining President Robert Mugabe.
The prosecutor told the court that Sibanda addressed an illegal gathering of war veterans at a disused mine shaft in Mutasa where remains of about 100 ex-fighters were set to be reburied.
He dubbed the gathering illegal because the reburial had been rescheduled to a later date.
From the prosecution's case, it is evident that the State is fishing for a charge to sustain its "case" against Sibanda because what they brought before the court seemed nothing short of pure comedy.
In a nutshell, the prosecution is saying the meeting Sibanda addressed was illegal, his speech was lengthy and that during his long speech delivered at an illegal gathering, he claimed that Mugabe and our dear First Lady Grace were hatching a "bedroom or boardroom coup".
For the record, most gatherings Sibanda addressed before his now infamous bedroom coup chant were illegal.
Sibanda hauled college and university students for pseudo lectures on ZimAsset.
In the run-up to last year's harmonised elections, Sibanda issued numerous threats of violence should Zanu PF lose, but the police turned a deaf ear.
However, when he dared speak out against Grace's conduct at her so-called meet the people rallies, law enforcement agencies were unleashed on him.
Sibanda only realised it late that the ability to commandeer students and coerce people to listen to long winding speeches punctuated with nothing is only possible for as long as one remained unquestionably obedient to His Excellency.
Sibanda has not been detained for anything illegal, but simply for daring to leave the camp that gave him prominence by allocating him resources to mobilise the million man march and criss-cross the country campaigning for Zanu PF.