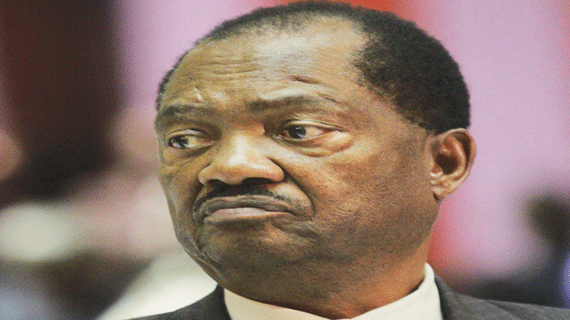 ZANU PF spokesperson Rugare Gumbo yesterday hit back at his adversaries saying he could not be judged by factional leaders who want to destroy the party, and instead, he advised Transport minister Obert Mpofu to shut up. RICHARD MUPONDE/ MOSES MATENGA Mpofu at the weekend alleged Gumbo was abusing his post as party spokesperson and had begun to speak on factional lines. But without going into details, Gumbo intimated that Mpofu had a chequered background and he should be wary of his comments.
"I am told Mpofu expressed his views and not the views of the committee," he said.
"It's a personal issue and all I can say is please leave my name alone.
"He (Mpofu) thinks he is a super minister, but with his background, he should not say that."
Without mentioning names, Gumbo said some of the people calling for his ouster had not fought for the country, whereas he was a veteran of the armed struggle.
"I fought for this country and some of these people never fought for this country," he said, adding that he did not speak factional politics.
"I think it's just a smear campaign, we don't take smear campaigns seriously."
Gumbo accused his colleagues in Zanu PF of focussing on trivialities while the party and the country burned.
"We are creating problems for the country and we are not focusing on economic challenges in the country, everyone is confused about what is happening," he said.
"What we want to say is please avoid this. The economy is bleeding. Let's focus on attracting investors in the country. We want peace and stability not condemning the hierarchy of the party and everyone linked to the VP."
As the bickering continued unabated within Zanu PF, Gumbo seems to be the latest victim of a State media-led blitzkrieg calling for his ouster, on allegations he was acting on factional lines rather than following party dictates.
"I cannot be judged by factional leaders who want to destroy the party and Zimbabwe," he said.
"I am only judged by the people and those are the ones who will tell me whether I am doing a good job or not.
"No provinces made any resolutions against me."
Zanu PF is split along factional lines with the State media being accused of supporting one grouping over another.
Already there have been vicious attacks on Vice-President Joice Mujuru, Mashonaland East chairman Ray Kaukonde and war veterans' boss Jabulani Sibanda.
Gumbo had last week called a press conference where he accused The Herald of taking a biased stance against Mujuru, but the newspaper hit back, accusing him of launching an onslaught against it.
Some sections in the party, particularly those seen as aligned to Justice minister Emmerson Mnangagwa, accused Gumbo of abusing his position as party spokesman in an effort to boost the waning fortunes of his faction.
Gumbo reportedly belongs to the Mujuru faction.
Last week, the Midlands and Matabeleland North provincial co-ordinating committees resolved that Gumbo be relieved of his job as he lacked capacity and integrity to continue as the party spokesperson.
Zanu PF politburo member Obert Mpofu, addressing a provincial party meeting in Lupane at the weekend, lashed out at Gumbo accusing him of abusing his office by advancing factional interests while purporting to speak on behalf of the party.
Gumbo has warned that Zanu PF was at the mercy of Tsholotsho Declaration 2, a successor to the 2004 Tsholotsho Declaration where a number of party chairmen reportedly tried to reconfigure the party leadership, with Mnangagwa pencilled in for the vice-presidency.