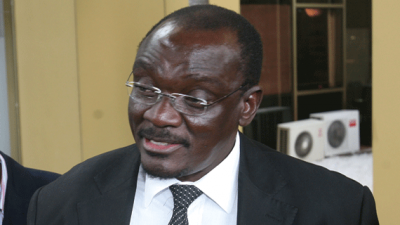 HOME AFFAIRS minister Kembo Mohadi's aspirations to become the country's vice-president have been dented by recent High Court judgments which questioned his moral standing for property grabbing spanning years, analysts said yesterday. SENIOR COURT REPORTER
Mohadi, Zanu PF national chairman Simon Khaya Moyo and former Zimbabwe ambassador to South Africa Phelekezela Mphoko are vying for the second vice-president post.
The sentiments come after the High Court last week released a final order compelling the minister to reimburse more than $340 000 he, together with his family and business associates, siphoned from a liquidated Beitbridge company Nerry Investment (Pvt) Ltd.
Journalist and political analyst Methuseli Moyo yesterday said Mohadi's court cases had the effect of portraying him as a person who abuses power.
"So naturally when such a person wants more power people get confused as to how he can aim for such a higher office," he said.
"(Although) what Mohadi is doing is done by almost every senior person in Zanu PF, the impression and perception he has created is not good for him."
Moyo said Mohadi's silence on the allegations left him vulnerable in the court of public opinion as people made their own conclusions.
Moyo's sentiments were echoed by another analyst, Godwin Phiri, who said Mohadi's actions compromised Zanu PF's borrowed image of a party that did not tolerate corruption and respected the rule of law.
"With what Mohadi is doing, a lot of questions will be raised and will affect the party's integrity if he is elected to a higher office," he said.
Mohadi, on the other hand, claims he is a victim of Dawson, a "cunning businessman" who used the courts and "trickery" to cover shoddy dealings, ZBC reported.
Last week a judge warned Mohadi that, as a Minister of Home Affairs, who had been in office for more than a decade, he should understand that the courts were there to protect the weak and the poor in society.
Justice Martin Makonese also barred Mohadi from interfering with the operations of an investor, AfricOil, which bought liquidated Reed Queen fuel depot in the border town for about $2,3 million.
Mohadi had been accused of threatening to kill an employee of the investor who had been tasked to do an asset evaluation by the liquidator, Babra Lunga.
However, what could further dent the minister's image was the latest order by Justice Makonese ordering he reimburse Nerry Investments, which Mohadi was also trying to wrestle from Bietbridge businessman, Reginald Dawson and his wife Jane.
The Dawsons also owned Red Queen, companies, which they formed using their own personal funds.
In his final order last week, Justice Makonese, who was confirming a provisional order granted against Mohadi on September 6 2012, gleaned by Southern Eye, ordered the minister, his wife Tambudzani, son Campbell Junior, business associates John Josias Moyo, Irene Ndou, Alistair Moyo, Dumezweni Muleya, Moses Sibanda and Rabson Mthombeni to reimburse various amounts they siphoned from the company with a combined figure of $340 000.
Mohadi, his wife Tambudzani (a senator) and Josias Moyo, have another order, where they have been ordered to pay back $199 944,85, which was siphoned from Nerry Investments into the minister's wife CBZ account.
According to court papers, the bulk of the money was siphoned by the minister and externalised to pay for his son Campbell Junior's studies as a pilot in South Africa.
The looting was only stopped after the liquidator Lunga sought the intervention of the court, accusing the minister of turning the company's bank account into "piggy bank".