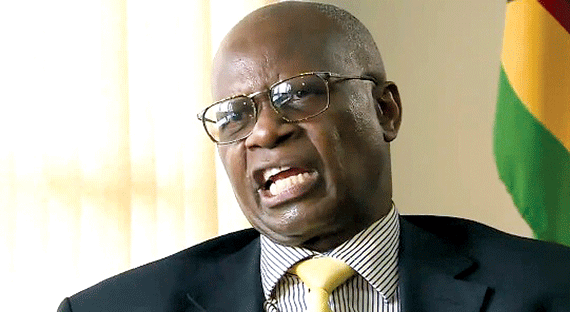 FINANCE minister Patrick Chinamasa yesterday apologised to the National Assembly for breaching Parliament's Standing Rules and Orders and the Constitution when he attempted to smuggle in a supplementary budget as part of his mid-term fiscal policy statement announced last week.
VENERANDA LANGA SENIOR REPORTER
But his apology was not taken kindly by opposition MDC-T MPs who kept lampooning him saying as a veteran lawyer and Finance minister, Chinamasa should have foreseen that he was making a legal boob.
After tendering his apologies, Chinamasa sat forlornly as opposition MPs attacked him with some labelling him "incompetent" and "mediocre".
"Mr Speaker, I would like to offer my apologies to this August House for the oversight which led to violation of Parliament Standing Rules and Orders and the Constitution, and in order to regularise the omission I am requesting the August House to condone the oversight," Chinamasa said.
"I am, therefore, seeking the leave of the House to move that the mid-term budget review statement I presented on September 11 be deemed to have been made upon a motion seeking leave of the House to introduce a Bill to make for further provision and public funds of Zimbabwe and matters relating, and incidental thereto as required by Section 305 (5) of the Constitution.
"And that the debate that was to ensue from the motion be treated as debate on the leave to introduce a Finance Bill."
Kuwadzana East MP Nelson Chamisa (MDC-T) immediately raised a point of order saying Chinamasa should not have tried to smuggle the Bill because he was well acquainted with legal procedures.
"Minister Chinamasa is a lawyer. He is a Finance minister who should know what the law requires in terms of bringing in a supplementary budget, instead of trying to come through the back door," Chamisa said.
National Assembly speaker Jacob Mudenda had to come to Chinamasa's rescue, pleading with the opposition MPs to allow the Zanu PF minister to be granted leave to rectify the problem.
But MDC-T chief whip Innocent Gonese did not relent and raised another point of order saying Chinamasa should not take Parliament for granted. Mabvuku Tafara MDC-T MP James Maridadi added: "The people of Zimbabwe are tired of mediocrity and incompetence and we cannot allow a minister to come and display mediocrity and incompetence and then later come to seek leave of this House."
Zanu PF chief whip Joram Gumbo stood up to defend Chinamasa saying everyone could err.
Chinamasa's motion to seek leave of the House to bring in the Bill was subsequently approved.