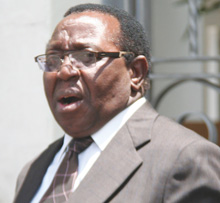 ZANU PF national chairman Simon Khaya Moyo yesterday said corruption and indiscipline are tearing the ruling party apart and revealed that he has been mandated to crack the whip to root out the problems.
NQOBANI NDLOVU/ BENSON DUBE
Moyo made these remarks while officially opening a Zanu PF provincial co-ordinating committees consultative meeting with government ministers held at Elangeni Training Centre in Bulawayo yesterday.
Moyo said recent events had exposed widespread corruption and indiscipline. He said the country "would see what will happen" to the culprits as "this party will not be destroyed by selfish individuals".
He was referring to the recently held Zanu PF youth and women's congresses that were reportedly marred by alleged widespread vote-buying and candidate imposition.
"I was mandated by the politburo last week to take disciplinary action and deal with the matter of indiscipline and corruption.
"We (the disciplinary committee he chairs) will be going around the provinces gathering reports of what happened; who did what and so forth," Moyo said.
"We are targeting those culprits. Zanu PF is not a shopping mall. Our members are not commodities that can be bought.
"The party is an organised entity. It has rules, regulations and a constitution."
Allegations of vote-buying, kidnappings, intimidation and open public attacks against feuding Zanu PF officials characterised the party's youth and women's conferences and Moyo said corrective disciplinary measures would be taken to ensure that the December elective congress would not be chaotic.
"We will instil discipline as we go to the congress. There must be discipline in the presidium, politburo, central committee, provinces, women's league, youth league and in all our structures. If we don't deal with discipline, we will be a cursed society," he said.
"We will deal with those culprits. When they give you their money, accept it, but also report them to the disciplinary committee and you will see what would happen to them.
"There are people who want to destroy the party and that cannot be allowed to happen. This party will not be destroyed by selfish individuals.
"We must go to the congress as one family and not as many pieces of a family because of corruption and indiscipline," he added.
Among the ministers who attended the meeting were Patrick Chinamasa (Finance), Dzikamai Mavhaire (Energy), Joseph Made (Agriculture), Fred Moyo (Mines deputy minister), Sithembiso Nyoni (Small and Medium Enterprises), Francis Nhema (Youth and Empowerment) and Chiratidzo Mavuwa (Industry and Commerce deputy minister).
The ministers presented their ZimAsset implementation plans for Matabeleland.