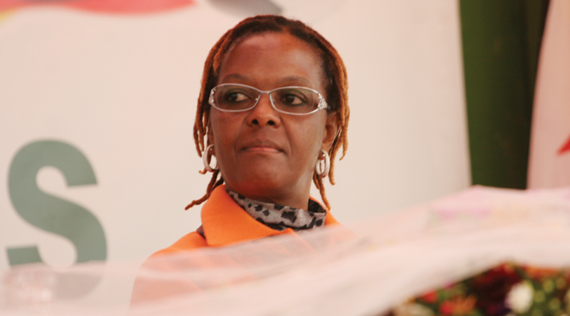 THE fallout over First Lady Grace Mugabe's imminent elevation that is rocking Zanu PF's Harare province deepened yesterday with provincial chairperson Amos Midzi taking a dig at politburo members he accused of mischief. MOSES MATENGA STAFF REPORTER
Midzi's executive accused politburo member Cleveria Chizema of breaching protocol and convening "a kangaroo meeting" in Highfield on Sunday where she called for the dissolution of the provincial executive for allegedly opposing Grace's nomination to lead the women's league.
The provincial chairperson told journalists in Harare that the meeting had not been sanctioned by his executive. Midzi said contrary to Chizema's claims, Harare province was the first to endorse Grace's ascendancy to lead the women's league.
He also denied charges that he had ordered his loyalists to beat up and block party youths from attending Chizema's meeting.
"We would like to confirm that as Harare province leadership, we have already dealt with the matter of supporting the First Lady Amai Grace Mugabe for the position of national secretary for women affairs," he said.
"This position is contained in a letter that we wrote as a province to the national chairperson Simon Khaya Moyo — who is also chairperson of the national elections directorate — on August 13, 2014.
"In that letter, we confirmed that Amai Grace Mugabe was a member of the party in Robert Mugabe district under Harare province.
"I hope this position that I have shared with you will clarify and dispel the mischievous and misdirected statement which gave the impression that Harare province had not embraced the resolution from the national youth and women conferences."
Provincial women's league boss Angeline Matambanadzo also distanced herself from the Highfield meeting.
"As chairperson, I lead the league in Harare and I am shocked to hear that our youths are being beaten up," she said.
"This happened during an unconstitutional meeting and they are using big names. Therefore, as parents, we are afraid. I didn't know about the meeting and I will take that up to check how the meeting was sanctioned.
"How can a meeting be called for in our province without our knowledge? The meeting was unconstitutional and people were bussed from housing co-operatives to attend that meeting.
"No one should claim to love the president (Robert Mugabe) more than others. We are all Zanu PF, we love President Mugabe. "They are wolves in sheep skin who have their agenda."
Addressing the Sunday meeting, several party officials including Harare provincial youth chairperson Godfrey Gomwe reportedly took turns to attack Midzi and politburo member Tendai Savanhu saying they were against the First Lady's nomination.
Sources said Chizema's team falsely told their supporters that the First Lady would attend the meeting in a bid to attract a bumper crowd.