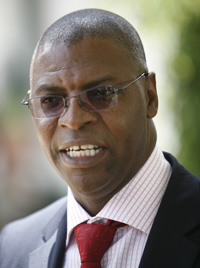 MDC leader Welshman Ncube is now a practising lawyer again after teaming up with former Attorney-General Sobusa Gula-Ndebele's commercial law firm — Gula-Ndebele and Partners — Southern Eye has learnt.
Njabulo Ncube Deputy Editor The law firm has since opened first offices outside Harare in Bulawayo along Herbert Chitepo Street and Connaught Avenue, which started operating this month.
Ncube, a professor of law, told Southern Eye yesterday he decided to return to practising law after some reflection following his party's dismal performance in last year's elections.
MDC failed to win any elected seat in both legislative and local government elections despite being one of the most visible parties ahead of the July 31 polls.
Ncube disappeared from the political scene for several months after the elections and when quizzed about his long sabbatical, he said he had taken time off to reflect on the outcome.
"As you know in my last interview with your paper after the July 2013 elections, I mentioned we needed to rest before deciding on what to do after digesting the outcome of the polls," he said yesterday.
"So in April this year I went back to practice. I joined up with Gula-Ndebele in Harare as one of the two partners while looking for an office in Bulawayo.
"We now have the office and the Law Society of Zimbabwe has inspected it and given us the go-ahead to start practicing."
He said the law firm would generally specialise in offering corporate law services although it would be open to other legal services such as criminal cases.
"Bulawayo is an important part of Zimbabwe. We will offer the same services we are offering in Harare," Ncube said.
"We have confidence in Bulawayo and its people. We will be here in good and even bad times, that's why we have come into the city while others have gone the other way."
Ncube said both him and Ndebele bring a great deal of expertise and experience "not in the narrow sense of the legal framework, but because we both have experiences at the highest offices of the corporate world and government."
Ncube is a constitutional lawyer who has practiced as an advocate. He was Industry and International Commerce minister during the inclusive government.
Gula-Ndebele served as the AG from 2006 until his controversial dismissal from office in May 2008.