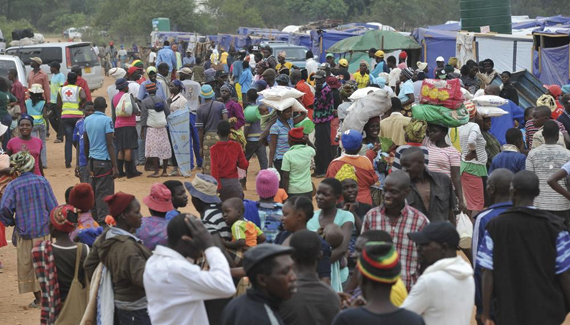 THE chaos at Chingwizi camp where over 2 000 villagers were dumped by the government in February has gone on for too long.
Scores of villagers were forced to evacuate the flood basin of the Tokwe-Mukosi Dam in Masvingo province and they were relocated to the Mwenezi camp on the understanding that they would be resettled immediately.
However, the villagers are still stuck at the camp and very soon the rainy season will be upon us again. The villagers will not have enough time to prepare land for the next farming season and build decent structures. Villagers are reluctant to move to new plots that the government has parcelled out at the Naunetsi Ranch before they receive compensation for the property they lost during the forced evictions.
It is clear that the flood victims do not believe that the government will keep its promises to compensate them once they are relocated.
There are signs that the situation at the camp is deteriorating with violent protests now the order of the day.
Chingwizi camp dwellers have on a number of occasions demonstrated their anger by chasing away government ministers who have gone there with empty promises.
The situation went from bad to worse last week when angry villagers bashed police officers and set vehicles on fire during efforts to relocate a clinic to the new resettlement area. There are reports that police have been rounding up the villagers behind the violence amid concerns human rights would not be respected.
Clearly the government is not dealing with the root problem at the camp and using the police or the army against the villagers will not solve the challenges at Chingwizi. The government, as a matter of urgency, should mobilise money to compensate the villagers and speed up their relocation.
Besides the violence, there are many social problems cropping up at Chingwizi and these will affect generations to come.
Recent research for instance has revealed that teenage pregnancies are spiralling out of control.
The government has an obligation to move in to prevent a catastrophe.