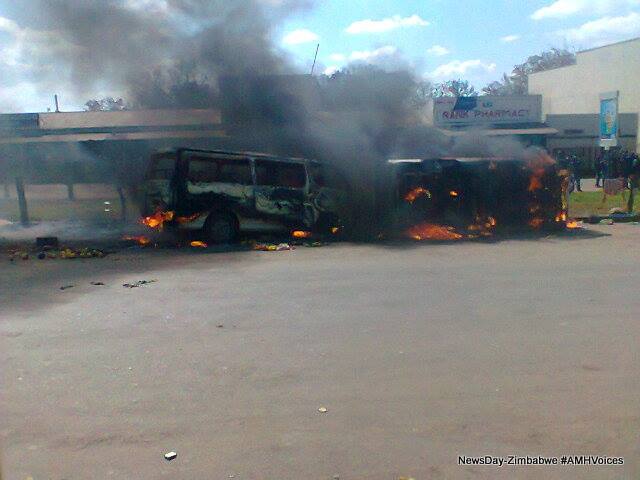 ANTI-RIOT police were yesterday called to quell a protest by angry Masvingo residents triggered by the death of a toddler, who was run over by council vehicle close to Mucheke bus terminus.
TATENDA CHITAGU OWN CORRESPONDENT
The residents torched a council vehicle and a kombi parked next to the car was also destroyed by the fire.
Witnesses said municipal police stormed the terminus to arrest vendors and one vendor fled leaving her child lying next to her wares.
"One female vendor left her toddler lying beside the road next to her wares and as she fled, the car pursued the vendors and ran over the tot in the process," said an eyewitness.
The witness said onlookers were infuriated and started attacking the municipal police who abandoned the car and fled to seek refuge at the nearby Chikato Police Post. The angry crowd torched the council vehicle and when police details failed to contain them, they called in the anti-riot squad. Masvingo mayor Hubert Fidze said he was going to visit the scene to establish what exactly happened.
"I heard about the matter. I am going there to get details firsthand," he said.
The Masvingo Residents and Ratepayers' Association (Murra) blamed council for failing to heed its advice.
"This is not the first time that this has happened. We tried to engage the city fathers, but they were very supportive of the barbaric manner in which municipal police operate. We are sorry that a precious little life has been lost and the city fathers must take responsibility. They are to blame and must take action before we lose more lives," Murra programmes co-ordinator Anoziva Muguti said.