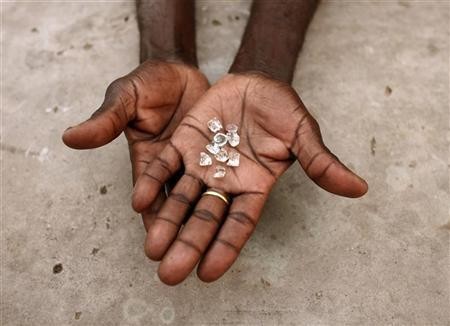 CABINET on Tuesday directed the Mines and Mining Development ministry to immediately start implementing a new institutional programme that seeks to curtail the sale of rough diamonds.
NQOBILE BHEBHE CHIEF REPORTER
Zimbabwe has been exporting rough diamonds to the international market losing vast amounts in potential revenue. The government now wants the country to instead export cut gems and crafted jewellery.
Mines minister Walter Chidhakwa told delegates at the ongoing Mine-Entra conference at the Zimbabwe International Trade Fair (ZITF) in Bulawayo yesterday that it was "not proper or rational" to be continuously offloading rough diamonds.
"What do we do with our diamonds? We cannot continue to export rough diamonds as it is not proper, rational and does not augur well for our economic development," he said.
"We must embark on serious value addition programmes that include cutting and polishing of diamonds and manufacturing of jewellery."
He said it was extensively discussed and Cabinet agreed and directed that "we implement the new institutional programme".
He said it would help the country to drive the various strategic objectives in place.
Chidhakwa said they had been locked in negotiations for the past two months with prospective investors looking at having "access to Zimbabwe diamonds for the purposes of driving their own manufacturing sectors".
"India has built an entire city underpinned by the diamonds from Zimbabwe, but we, the source of the diamonds do not have anything to show in terms of value addition.
"We are looking at the possibility of trading diamonds for value addition. They want our diamonds and they have experience in cutting and polishing and manufacturing jewellery and marketing outlets across the world.
"We want to sell our diamonds to those countries, but they must help us break into the international market not to sell rough diamonds, but to sell cut and polished products. We must have a footprint in the world market," he added.
Earlier this year, President Robert Mugabe travelled to the United Arab Emirates and visited the Dubai Diamond Exchange (DDE) as the government sought new markets for the country's diamonds.
During the visit, Mugabe gave DDE his seal of approval.
Zimbabwe sold about 400 000 carats of diamonds at the DDE in March this year generating $30 million.