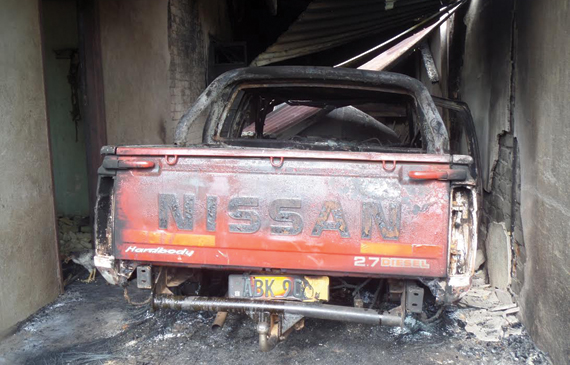 TWENTY war veterans, including women, appeared at the Masvingo Magistrates' Court yesterday facing charges of striking an indigenous farmer with an axe on the head and burning property of another farmer during a violent confrontation last Saturday.
TATENDA CHITAGU OWN CORRESPONDENT
The group was charged with public violence and criminal trespassing before they were remanded in custody to August 5.
A mob of war veterans went on the rampage on the Masving East farms axing farmer Mufaro Mukaro on the head as retribution for causing their forced eviction from the black-owned farms they had occupied.
Mukaro was admitted at Masvingo General Hospital in a critical position and is reportedly battling for his life.
Hospital authorities have barred visits to him except by his wife.
Besides attempting to take the life of Mukaro, the rampaging war vets also stormed a farm owned by Tsaurai Lawrence Stemere and assaulted his wife Raviro Makuzhe before setting the farmhouse and car ablaze.
The Stemere family lost all its clothing in the inferno and other property worth thousands of dollars.
Johnson Mutanda (40) and nine other war vets appeared before Masvingo magistrate Langton Ndokera facing a count of public violence and another of criminal trespass, while Mathius Makopa (61) and nine others faced the same charges committed at a different farm.
For the State, Fidelicy Nyamukondiwa alleged that on July 19, Mutanda and his co-accused forcibly entered Sundowns Farm owned by Stemere and assaulted his wife with fists all over her face several times, before setting his kitchen hut and farmhouse as well as Nissan twin cab vehicle ablaze before fleeing the scene.
The court heard that Stemere lost all his kitchen utensils and other property. The family's clothing was all reduced to ashes.
The State said on the same day, Makopa and his co-accused illegally entered Menaliby Estate, a farm owned by Mukaro and attacked him with axes and machetes.
Mukaro was brutally attacked and axed on the head. He was ferried to hospital in a critical condition with the axe still stuck in his head.
Other farmers who escaped the marauding ex-combatants reported the attack to the police, leading to a massive manhunt that led to their arrest.