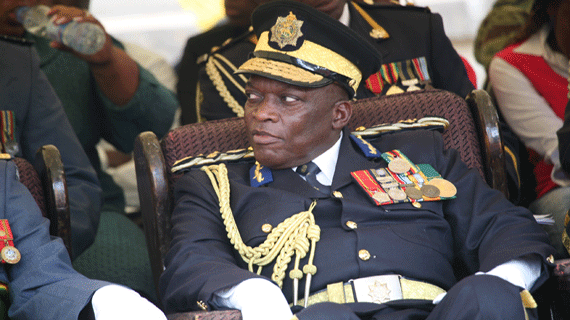 FIVE Hwange woman have filed a combined lawsuit demanding more than $100 000 from the police for alleged brutality after anti-riot police violently broke up a protest by disgruntled wives of Hwange Colliery Company Limited (HCCL) men that had gone for seven months without pay. RICHARD MUPONDE SENIOR COURT REPORTER
The protest took place on October 7 2013 in the mining town and police intervention left some of the miners' wives seriously injured.
According to summons before the Bulawayo High Court filed by the women's lawyer Tanaka Muganyi last week, four of the women, Thokozile Sibanda, Luzani Ngwenya, Evelyn Dube and Judith Mangena are demanding $20 000 each for malicious detention and humiliation.
The fifth woman, Margaret Mpofu, who was admitted at hospital nursing injuries of the alleged police brutality, is demanding $20 000 damages for assault and $ 1 500 for future medical expenses.
Hwange Police Station officer-in-charge one Chief Inspector Chigede, police Commissioner-General Augustine Chihuri and Home Affairs minister Kembo Mohadi are cited as the respondents in the lawsuit.
Sibanda, Ngwenya, Dube and Mangena said the police rounded them up from their homes at midnight on October 7, the day of the planned peaceful demonstration.
"All plaintiffs were taken to Hwange Police Station where they spent the better part of the night in custody only to be released in the evening of the 7th of October without being charged.
"The plaintiffs were accused of hatching a plan to demonstrate against HCCL. Plaintiffs were unlawfully arrested and detained as the police had no probable cause to do so," reads the submission by their lawyer.
"The plaintiffs were compelled and forced to admit to the allegations on the threat they would be detained further and assaulted. First defendant (Chigede) had no justifiable cause for their arrest."
Mpofu in her declaration said she was part of a group of 50 women who had gathered for the protest at the company offices more than eight kilometres from the compound.
She said before the group had reached their intended destination, they were intercepted by police in riot gear.
"In the process one of the riot police officers tripped plaintiff to the ground, wherein she fell to the ground and hurt her head on an iron bar and was unconscious.
"She bled profusely and sustained a deep laceration on the scalp wherein she was sewn 10 stitches.
"Plaintiff was also bruised all over the body," the lawyer submitted.
"Plaintiff was detained for a period of three days from 7th of October 2013 at Hwange Colliery Hospital and since the brutal assault and injuries, the plaintiff has continuously been subjected to serious migraine headaches and requires a consistent supply of painkillers."
The summons was served on the police on July 7 and no opposing papers have yet been filed.
Related Topics