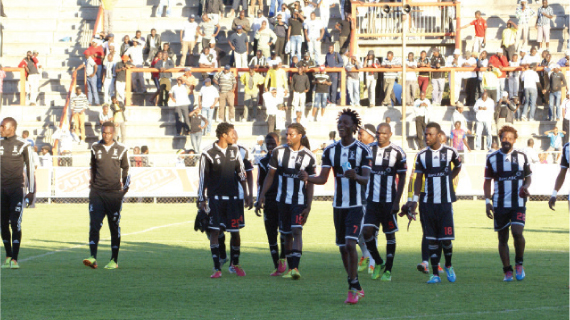 CHARLES Sibanda struck a memorable hattrick as Highlanders dismantled Bantu Rovers in a Bulawayo derby at Barbourfields Stadium yesterday to maintain top spot in the Castle Lager Premier Soccer League.
THANDIWE MOYO SPORTS CORRESPONDENT
Highlanders . . . . . . . . . (3) 4 Bantu Rovers . . . . . . . . (2) 2
Bosso maintained pole position with 30 points, three ahead of the chasing ZPC Kariba, Dynamos and Caps United, who are all on 27 points after Match Day 15. Bantu Rovers moved two places down to a more precarious position at 15 with 14 points.
Bantu Rovers coach Methembe Ndlovu said his side had played well.
"We played well, but we still do not know how to win. We have to grow up as a group. Failure to score is costing us and that is our homework. We prepare each day but it has not been working. I am responsible for the result. They just have to carry out the game plan. I am happy with their performance, but the responsibility lies with me," he said.
Bosso coach Kelvin Kaindu said scoring four goals was an achievement for his charges.
"It was a tough match, but it was good that we scored four goals. It is a great achievement. We could have prevented the goals that they scored. In football you cannot dominate throughout; the opponents can also dominate," he said explaining how Bantu Rovers were in control in the midfield.
In taking his goal tally to 10 from 15 games this season, Sibanda converted from the spot in the 14th minute when referee Rugare Kusosa adjudged that Bantu Rovers defender Hebert Dick had hacked down striker Gabriel Nyoni inside the box.
Bantu Rovers defender Proud Zireni, who has often been booked for indiscipline, earned a yellow card following his charge at Kusosa, protesting the penalty.
But Bantu Rovers hit back, levelling the scores through a header by Tafadzwa Kutinyu in the 27th minute.
Bosso went a goal up through Sibanda again in the 31st minute after Dick failed to clear and headed the ball towards his goalkeeper Takunda Mutanga. Sibanda intercepted and rolled the ball into the nets.
Sibanda took his goal tally and that of the team to three a minute into optional time of the first half following a perfect delivery into the box by Valentine Ndaba.
Bantu Rovers crept back into the match when they scored their second goal before the halftime break through a well taken free-kick by captain Nqobizitha Masuku.
Ozias Zibande killed the game as a contest at the stroke of fulltime when he headed home a Knox Mutizwa cross.
Bantu Rovers had the better of the exchanges in the midfield and in the seventh minute could have scored, but Masuku who had no sense of urgency and failed to control the ball letting defender Innocent Mapuranga recover and clear.
In the 36th minute, Zephania Ngodzo saved his sibling Joel's goalbound shot with his arm inside the box, but referee Kusosa ignored calls for another penalty.
Seven minutes later, Erick Mudzingwa watched in disbelief as his blistering shot from the centre circle hit the cross bar and bounced back into play with Zibande failing to capitalise on the rebound.
Bruce Kangwa was found wanting in the 52nd minute when he lost the ball to Kutinyu who sent a cross to Obadiah Tarumbwa inside the box and with only Ariel Sibanda to beat, the former Highlanders striker aimed for the birds.
There was an outcry from the Highlanders technical bench and supporters when Dick was not red carded after an apparent second booking.
In the first instance, referee Kusosa seemed to have flashed the yellow card at Dick in the 68th minute after he remonstrated with him.
Dick was shown another card in the 85th minute when he fouled Sibanda a few metres outside their box and when Kusosa did not send him off both supporters and the technical bench gestured at him that it was his second bookable offence, but the referee did not yield to the pressure.
Teams Highlanders: A Sibanda, I Mapuranga, D Ndlovu, B Kangwa, S Munawa (F Chindungwe 59th minute), E Mudzingwa, J Ngodzo, V Ndaba (M Maphosa 73rd minute), K Mutizwa, G Nyoni (O Zibande 41st minute), C Sibanda
Bantu Rovers : T Mutanga, B Sikwili, Z Ngodzo, T Hadebe, H Dick, P Zireni (T Ngwena 35th minute), N Masuku, T R Kutinyu (M Mlangeni 87th minute), O Tarumbwa (L Ndlela 69th minute), M Majika, B Sibanda