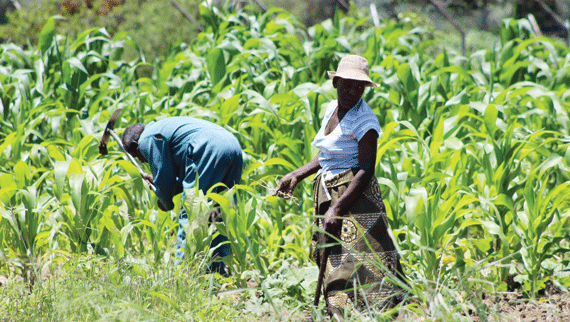 Good rains that fell in the country between October 2013 and April breathed a new lease of life to urban farmers who had over the years experienced poor harvests and slashing of crops by the Bulawayo City Council. LINDA CHIONOBVA OWN CORRESPONDENT
This year, council did not follow through with threats to slash crops cultivated on undesignated land. A snap Southern Eye survey revealed that Bulawayo urban farmers harvested more maize than in previous years. Previous years were characterised by massive crop failures due to perennial protracted droughts.
Some urban farmers said this year was different as they managed to harvest enough maize to sustain them throughout the year. Rosaria Nyoni of New Lobengula said this year's farming season had been a blessing as she managed to harvest fourteen 50kg bags of maize.
"This year's farming season was surely a blessed season because I produced a lot of maize that will sustain me up to the end of the year. I cannot even remember the last time I harvested so much because of the low rainfall that we usually received," Nyoni said.
"Last year I only managed to harvest three 50kg bags of maize which only lasted for three months," she said.
Nyoni said she had maximised the small portion of land she cultivated and still managed to grow groundnuts, maize and sweet potatoes.
Another urban farmer from Magwegwe, Filda Ncube, said she had a good harvest despite having planted late having lost a lot in previous years due to the low rainfall.
"I had lost hope in farming because of the low rainfall, but to my surprise, this year was different because I harvested a lot," Ncube said.
"In previous years, I would put an effort in farming, but be disappointed in the end as most of my crops would have withered. We hope and pray that the coming years would have such good rainfall so that we could at least be able to feed our families by harvests from our fields."
Ncube said she got seven bags of maize compared to last year's two.
Methuseli Nkomo from Emganwini said he harvested enough crops for consumption and sale as he had harvested 21 bags of maize and 80kg of sweet potatoes.
"This year the rains were good and as a result I managed to harvest crops that I am selling. Last year I could not afford to sell even a sweet potatoes, but this year I have been able to pay bills from sales from my field," he said.
"My family has enough food for the whole year."
However, some said they had not bothered farming thinking that drought would again attack the land.
Nozipho Ndlovu from Northend said she did not farm this year fearing a drought and theft.
"I decided to stop farming while others continued, not only because of the low rainfall, but because of the thieves that would steal my ripe crops. Thieves would steal the little meant for harvest so I thought of taking time out," Ndlovu said.
Siduduzile Mpande from Lobengula said thieves raided her field and stole sweet potatoes and maize. Mpande said the thieves affected the amount of crops she harvested as she would have got more had her fields not been raided.
Melody Zingane of Tshabalala said they had experienced difficulties in securing fertiliser due to the increase in urban farming.
"A lot of shops did not have fertiliser and that affected our yields. I am sure if we had fertiliser, we would have got much better harvests," Mpande said.