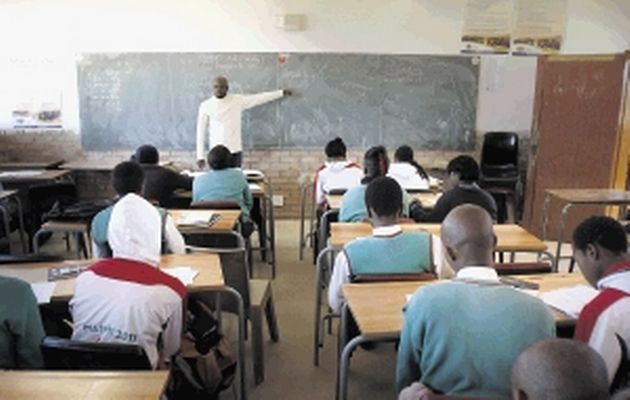 THE Zimbabwe Teachers' Association (Zimta) says teachers without 'O' Level Maths and Science have been asked to ensure they write the subjects in line with new Primary and Secondary Education ministry policies.
NDUDUZO TSHUMA/SILAS NKALA
Zimta chief executive officer Sifiso Ndlovu said teachers without the subjects were visiting education offices countrywide to complete forms indicating when they would write the exams.
In Bulawayo, teachers, including school heads, went to the provincial education office where they filled in forms indicating when they would be ready to write.
Ndlovu commended the move by the government saying it would help improve the quality of education.
"We are aware of the process. It has been going on for some time and we trust that those without the required subjects will go and write because the government is paying for that," he said.
"We support the government on the move because it would be good for the quality of education for children. I do not think it is something to cry about."
Ndlovu urged the government to broaden the requirements to languages saying it would solve the debate on the deployment of non-Ndebele speaking teachers to primary school in Matabeleland.
"All subjects should be looked into, especially languages, to ensure smooth interaction between teachers and learners. If one is deployed to a Nambya-speaking community, they should know that language because social interaction is critical," he said.
Primary and Secondary Education minister Lazarus Dokora recently ordered teachers who failed Mathematics, Science and English at 'O' Level to retake the subjects in line with the government's required professional standards.
Meanwhile, MDC Matabeleland South provincial chairperson Pilate Ndebele said a survey they conducted in Bulilima and Mangwe districts revealed that 30 schools were dominated by non-Ndebele speaking teachers.
Ndebele said at one school, only the headmaster could speak Ndebele.
He said his party had embarked on a fact finding mission earlier this year to establish the type of teachers behind the poor results in Matabeleland South following reports that primary schools in the province had produced dismal 2013 Grade 7 results.
"Our findings so far are shocking," Ndebele said. "We have almost surveyed all schools in Bulilima and Mangwe districts and what we discovered is shocking," Ndebele said.
"We established that 12 primary schools in Mangwe have a high number of non-Ndebele speaking teachers while in Bulilima district, 18 primary schools have quite a number of non-Ndebele speaking teachers and we believe this is the major reason for poor Grade 7 results."
Ndebele said their findings had established that in Mangwe, primary schools such as Tshingababili, Tjedza, Sangulube, Makorokoro, Brunaperg, Sanzukwe, New Line, Hobodo, Bulu, Tshitshi, Kene and Mkologwe had more non-Ndebele speaking teachers than those who speak the language.
In Bulilima, he said Sevaka, Tshangwa, Tjompani, Malalume, Vimila, Tokwani, Makumbi, Tjehanga, Zimnyama, Mbimba, Tjokuru, Gwamba, Nomtemano, Matshinge, Ntunungwe and Ntoli had high numbers of non-Ndebele speaking teachers.
"At Dubute Primary school, only the headmaster speaks Ndebele and there is a high possibility of the school producing a 0% Grade 7 pass rate," Ndebele said.
He said his party was in the process of compiling a detailed report of the figures that would be made public as soon as it was complete. Ndebele said they would conduct surveys in schools in the Gwanda, Insiza, Matobo, Beitbridge and Umzingwane districts.
Ndebele said those who argue that having non-Ndebele speaking teachers in Matabeleland was not an issue and had no negative effect on children's education should go to rural Mashonaland and see if they would find a Ndebele-speaking teacher who teaches grades one to five.
Matabeleland South acting provincial education director Reuben Mabhena declined to comment when contacted, saying his office did not react to instructions from political parties.