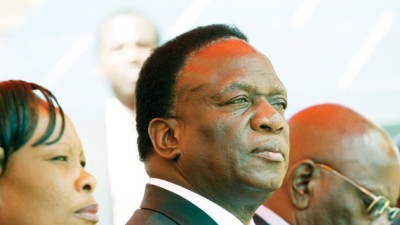 PRESIDENT Robert Mugabe's threats to deal with moles in Zanu PF was not an idle one as he does not make "light statements", Justice minister Emmerson Mnangagwa said yesterday. VENERANDA LANGA SENIOR REPORTER
Mnangagwa told the National Assembly that Mugabe was serious and would definitely act against "weevils".
Mugabe last month said Zanu PF had been infiltrated by "weevils" as he hit out against Information, Media and Broadcasting Services minister Jonathan Moyo for allegedly dividing the party using State media.
Taking a cue from the 90-year-old leader's ranting, Zanu PF secretary for administration Didymus Mutasa accused Mnangagwa and Moyo of being divisive figures in the party.
During a question-and-answer session in the National Assembly yesterday, Kuwadzana East MP Nelson Chamisa (MDC-T) asked Mnangagwa if Mugabe was serious when he lashed out at the "weevils". Chamisa wanted to know if the 90-year-old leader would act in light of recent arrests linked to Facebook character Baba Jukwa, who caused havoc on social media networks in the run-up to the July 31 2013 harmonised elections.
"I have no doubt that the MP knows that the president as the head of State will not make a statement which is empty – and for that reason I am not sure whether he is questioning the integrity or content of the statement," Mnangagwa said.
"Indeed the answer is I can assure you that the president does not make light statements, and I am sure that if the president discovers that indeed there are weevils he will always remove them."
On Baba Jukwa arrests, Mnangagwa said there were three arms of government and it was under the purview of the Home Affairs ministry to effect arrests of those suspected to have played a role in the Baba Jukwa saga.
He said the executive would not interfere in police business.
"The executive does not instruct the police to arrest people otherwise we will end up instructing them to arrest people without cases. It is up to the police to take action," Mnangagwa said.
Meanwhile, Buhera South MP Joseph Chinotimba appeared to be aiming his guns at Moyo when he asked Finance deputy minister Samuel Undenge who was bankrolling the Information and Media Panel of Inquiry (Impi) when the government was failing to pay school fees for war veterans' children as stipulated by the law.
"There is a committee going around the country; a broadcasting or information committee," Chinotimba said.
"Can you tell us where money for the $300 per sitting committee members are getting is coming from when war veterans can't get money for their children to go to school when the law says the government must pay fees for their children?
"Tell us what you mean when you say the government has no money yet that committee is paid $300."
Undenge asked that the question be put down in writing for them to respond appropriately. However, Chinotimba was not satisfied and demanded that Undenge tell the House whether money for paying Impi allowances and money for MPs' allowances was from different sources.
He charged: "Who doesn't know that there is no broadcasting transmission in Tsholotsho? "In Buhera there is no transmission, but the committee goes and sits in those areas and the members are paid; for what?"
Undenge again insisted that he would have to find out first before he could comprehensively respond to the question.
Impi was set up by Moyo to probe the general state of the media in the country and last week there were revelations that some in Zanu PF were not happy with the panel's activities.