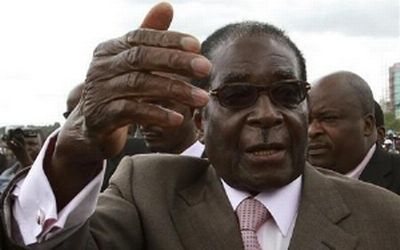 President Robert Mugabe on Friday branded his information minister a "devil incarnate", accusing him of appointing editors of state-owned newspapers who were sympathetic to the opposition.
Zimbabwe's private media say an intense battle to succeed the 90-year-old Mugabe has sucked in the state-owned press.
Vice-President Joice Mujuru and Justice Minister Emmerson Mnangangwa are seen as the frontrunners, while the veteran leader, who has ruled Zimbabwe since independence from Britain in 1980, has said the contest is open to other ZANU-PF leaders as well.
Mugabe said Jonathan Moyo, appointed information minister last year, was using the government-controlled newspapers to sow divisions.
"I am saying this in light of what is happening now. When you have our minister of information wanting to pit people one against another, you don't do things like that," Mugabe said in remarks broadcast on state-owned radio.
Moyo was a strong critic of Mugabe's rule while lecturing at the University of Zimbabwe before his first appointment as information minister in 2002. He was fired from the post by Mugabe in 2005 for standing as an independent candidate in parliamentary elections that year.
Moyo was withering in his criticism of Mugabe, calling him a "national security threat" in 2008, before he rejoined ZANU-PF in 2009 and became one of the major architects of Mugabe's landslide victory in last July's elections.
On Friday, Mugabe told mourners at a funeral of a senior ZANU-PF official that Moyo, a professor of political science, was trying to use his "knowledge and intellectual ideas" to destroy ZANU-PF by appointing editors sympathetic to the opposition Movement for Democratic Change (MDC).
"I am saying this because all the men that we had, who were leading the newspapers, were fired and replaced by those from the MDC," Mugabe said.
"You were all thinking you had a trusted person," he said, referring to Moyo, adding that the minister was in fact "a devil incarnate".
Moyo has since his appointment last year changed editors at major state-controlled newspapers and also suspended the chief executive of state broadcaster ZBC.
– Reuters