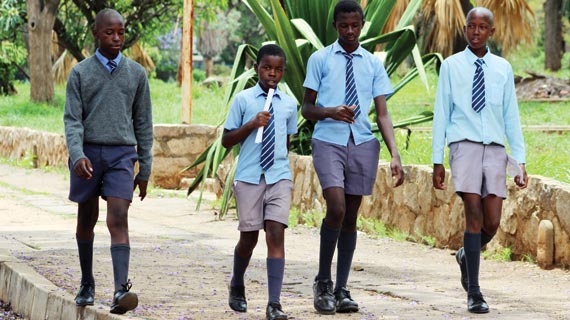 SCHOOLS have been warned against turning away children who fail to pay fees when the second term begins on Tuesday as that will be in violation of the Constitution.
STAFF REPORTER
The Zimbabwe Lawyers for Human Rights (ZLHR) yesterday said this term was an important milestone for school-going children, as it comes at a time when the Constitution of Zimbabwe marks its first anniversary.
"Notwithstanding the new constitutional dispensation throughout the country, there continues to be alarming tales of children being turned away from school due to failure to pay school fees," the lawyers said in a statement.
"This has consequently led to an increase in numbers of children dropping out of school altogether.
"Undoubtedly, the majority of those who fall victim to this practice are children from disadvantaged families and acquiring education can be the only way out of a life of poverty."
The government has repeatedly warned schools against removing children who fail to pay fees on time from class saying this is illegal. But the directive is often ignored forcing some parents to withdraw their children from schools.
"The exclusion of children for non-payment of school fees is unconstitutional. This practice also undermines policy pronouncements by the Ministry of Primary and Secondary Education," ZLHR said.
"The ministry has in the past categorically denounced exclusion of children for non-payment of school fees.
"Further, turning away children from the classroom undermines the principle of 'the best interests of child', a standard prescribed and emphasised in the Constitution of Zimbabwe, and in human rights instruments that Zimbabwe has voluntarily ratified.
"As schools open next week, ZLHR expects all school authorities to respect the laws of Zimbabwe and ensure that no child is turned away from school for non-payment of school fees.
"The Constitution emphasises the sanctity of the right to education and official pronouncements on government policy have confirmed the position. ZLHR will therefore expect all public schools to comply with laws and allow all children to attend school."
ZLHR said it believes that access to basic education is a crucial element in the development of a human being, as education enables enjoyment and fulfillment of other rights.
It urged the government to issue and implement a directive to all public schools to allow children to attend school whether or not the fees due had been paid.
ZLHR also said the government must respect its commitment to the realisation of the right to basic education as guaranteed in the Constitution by adequately funding Basic Education Assistance Module and similar social assistance programmes.
The government was called upon to ensure that teachers are adequately remunerated and motivated to conduct their duties diligently.