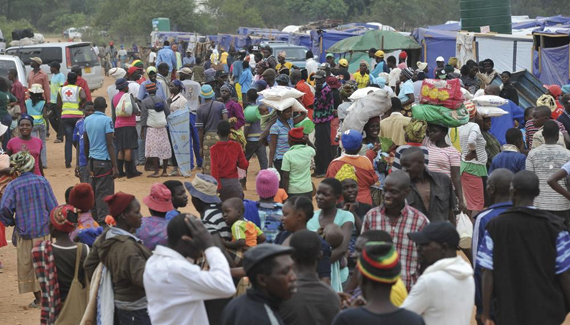 MWENEZI — More than 3 000 families displaced by flooding in the Tokwe-Mukosi dam basin in Zimbabwe's south-eastern Masvingo Province are facing looming food shortages after more than three months living in crowded, unsanitary conditions at a temporary camp.
The families, most of them from Chivi district, were relocated to Chingwizi transit camp, 200km south-east of Masvingo town in early February when torrential rains caused water levels in the catchment area of the partially constructed Tokwe-Mukosi dam to reach dangerously high levels.
A partial breach of the dam wall flooded several villages near the dam basin which had been scheduled for relocation.
The transit camp lacks adequate shelter, running water, toilets and food, and with winter fast approaching, residents told IRIN they urgently needed to be relocated to areas where permanent structures can be built.
However, most residents have so far turned down government offers to resettle them on one-hectare plots of land on a former cattle ranch, arguing that they had initially been told they would receive three-hectare plots as well as financial compensation for their lost homes and property.
Masvingo provincial administrator and chairman of the Tokwe-Mukosi relocation committee Felix Chikovo said the government was now battling to secure enough food for the camp's residents.
"There are looming food shortages and we are appealing to donors, the corporate sector and well-wishers to donate food for the flood victims. While we have enough stocks to see us through April, we do not know where we will get food for them beyond that."
He added that 156 tonnes of maize meal were needed per month to feed the camps roughly 20 000 residents. While private companies and relief organisations had been donating supplies, support was now starting to dry up.
A situation report by the UN office for the Co-ordination of Humanitarian Affairs (OCHA) confirmed that as of April 22 "funding is urgently required to address a glaring 132 tonnes shortfall of cereal". The report noted that no funding had so far been pledged to the UN's World Food Programme to provide for those displaced by the floods and that food stocks at the camp were now very low.
The government declared the flooding situation a national disaster in early February and appealed to the international community for $20 million to help evacuate and assist the flood victims, but so far only a third of that amount has been raised.
A spokesperson with the UN Children's Fund (Unicef) in Zimbabwe said his agency alone needed about $2 million to fund various interventions at the camp to improve water and sanitation, health and nutrition, and education, but that so far only $233 000 had been raised.
The OCHA report described conditions at the camp as "overcrowded and unhygienic" with diarrhoea, malaria and scorpion bites the main health problems.
Medical staff working at the camp clinic confirmed to IRIN: "We experience regular cases of diarrhoea, which is not abnormal given the kind of living conditions here."
Mwenezi District administrator Stanley Chamisa said cases of diarrhoea were being contained. "Health officials from the ministry and our partners are working on the ground to ensure the situation does not get out of hand," he said.
However, a pungent odour engulfs the camp and residents said they had resorted to using the bush to relieve themselves because of the distance they had to walk to reach poorly maintained toilets. Poor sanitary conditions at the camp have contributed to the spread of diarrhoea.
"The toilets are too far from the tents that we live in which makes it unsafe for some people, especially women and children. In any case, the toilets are so dirty they cannot be safely used," an elderly woman said, adding that she and her three grandchildren had all recently suffered from diarrhoea.
Meanwhile, people living with HIV complained that their diet at the camp, which consisted of maize meal with beans or dried fish, was compromising their health.
—IRIN