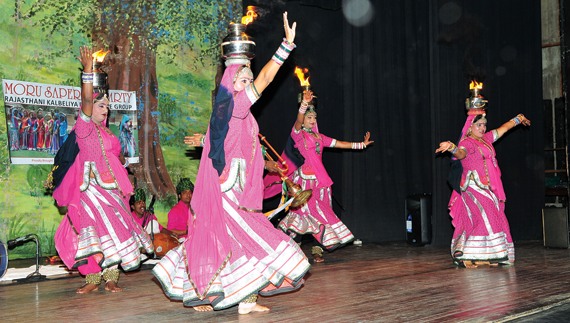 AN Indian dance ensemble — Moru Sapera Dance Party — on Wednesday night mesmerised it's audience when it put up a dazzling show at the Bulawayo Theatre.
NONHLANHLA SIBANDA OWN CORRESPONDENT
The ensemble, en route to the ongoing Harare International Festival of the Arts (Hifa) made a stopover in the city courtesy of Bulawayo mogul and managing director of Choppies Enterprises, Raj Modi.
Modi told Southern Eye Lifestyle that the outfit was due to perform in Harare, but persuaded them to make a stopover to give Bulawayo a taste of the Hifa experience.
"Moru Sapera Dance Party comes to Hifa every year, but they do not normally pass through Bulawayo. We wanted to give people in Bulawayo a chance to experience these dance moves and learn a thing or two about Indian culture," he said.
The male Sapera dancers wore colourful green head gears, pink, long, pleated tunics that open out into full length skirts.
The female dancers wore long, pink skirts embroidered with silver ribbons, and other colourful attires.
One of the female dancers fascinated the audience as she balanced seven brass pots on her head while dancing.
A dancer–cum-illusionist clad in embellished gold fabric also amazed the audience as he performed a trick whereby he "spit" fire.
Sapera dance of Rajasthan is one of the most famous dances of the state of Rajasthan.
It is the heart of Rajasthan's culture and tradition. Kalbelia a ritualistic group of Rajasthan invented this dance.
Kalbelia is a unique group which always moves from one place to another.
This dance culture spread out all over Rajasthan.
Local performing arts groups Umkhathi, Ezimnyama, Izenzo Performing Arts (IPA) and Isizwe Sabatsha showcased their dance moves, incorporating township dances, imbube, liberation songs and Tuku music.
Modi added: "Inviting local groups is an additional contribution to society. For local groups to share the stage with Moru Sapera Dance Party, we want to promote culture and tourism.
"My desire is to bring India and Zimbabwe together to create friendships. As relationships develop, there will be exchange programmes as Indian artistes showcase in Zimbabwe and local groups given platforms to perform in India."
Isaiah Mpofu who attended the show said the collaboration between local artistes and the Indian group would go a long way in helping people to appreciate diverse cultures in the world.
"This event provides a platform for interactivity between countries, such cultural exchanges will enhance integration of various groups, I foresee our own artistes going to showcase their works in India," he said.