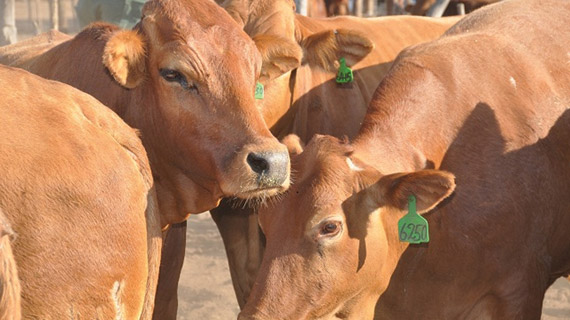 CATTLE auctioneers recorded a drop of 20% in sales at the recently-ended Zimbabwe International Trade Fair (ZITF) against a target of 100 head of cattle, due to an illiquid economy, among other challenges, it has emerged. MTHANDAZO NYONI OWN CORRESPONDENT
Last year Cattle Company (CC) Sales (Pvt) Ltd managed to auction 88 head of cattle at $1 055 per beast. However, this year the auctioneers targeted to sell 100 head of cattle at the same price, but they only processed 80.
In an interview with Southern Eye Business on Tuesday, CC Sales director and auctioneer Richard Wakefield said this year's show sale a had a total turnover of $95 000.
"This year's show sale attracted 80 show steers, and was ably judged by Phil Rodgers and assisted by Zeph Dlamini. The total turnover was $95 000," he said.
"There were a total of seven buyers being local abattoirs and butcheries who purchased the show steers for an average price of $1 194 — an increase of $136 per kg.
"This price represented an average throughout the sale of $2,62 per kg live weight. The champion steer, weighing 560kg, exhibited and won by Marcedale Farm, Figtree, was sold to Major Meats for $1 700 at $3,04 per kg live weight."
Wakefield said Heads and Hooves Butchery were the biggest volume buyer after they purchased 34 steers which included the champion pen of 10 and the champion pen of five.
He said the reserve champion steer, exhibited by Aisleby Farm owned by City of Bulawayo, was bought by a Nkomo of Mainline Butchery, Plumtree for $1 650.
Marcedale Farm won the best overall exhibitor and CC Sales donated $2 865 of the sale proceeds to the Bulawayo Agricultural Society.
President Robert Mugabe last week said he was worried this year's show did not exhibit many cattle because some were decimated by the drought the previous year.
CC Sales was formed in 1911 and has offices in Bulawayo and Gweru. It conducts cattle sales and auctioning.
The cattle exhibition at ZITF improved significantly in 2011 after it was almost scrapped because of an outbreak of foot and mouth disease and had suffered a knock at the turn of the millennium after eviction of mostly white farmers under the land reforms.