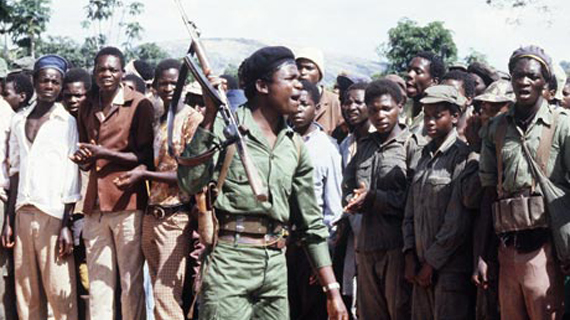 MOST war veterans continue to live in abject poverty 34 years after the country attained independence from Britain in 1980.
NDUDUZO TSHUMA/BENSON DUBE
North Korean-trained David Moyo, whose war name was Sharp Shooter, was injured in the pelvis at the height of the liberation war and now survives on handouts.
Moyo, who was demobilised after independence and lives in the Bulawayo City Council-owned millennium houses in Emganwini, said he was surviving on handouts.
"I received my lump sum in 1997, but it was not enough. I am not happy with the way things are being done," he said.
"From an ex-Zipra combatant's point of view, it seems like only former Zanla fighters receive better treatment. This is so painful because it now seems like this independence was fought for by Zanu PF and Zanla."
"There is nepotism; it's as if we do not belong to this country. We fought with Zanu and they were very difficult to deal with." Moyo said after independence, things seemed to get worse.
"I am just like any other ordinary person who fought immensely and is not recognised. I went to them and they promised to build me a house for my contribution to the struggle that brought independence. By right of my participation I am just like any of the generals considering the way I fought," he said.
Moyo, who receives medication at Headquarters 1 Brigade, said he would attend the independence celebrations.
"If they are reasonable people, they should assist those who brought independence and Zipra must be included in history books that it contributed to the independence of the country. If I criticise much, these people will end up curtailing the little assistance I am getting," he said.
Former Zipra veteran Charles Makhuya said ex-freedom fighters were finding it hard to survive.
"That we achieved independence is not in dispute. However, benefits only went to a few certain individuals," he said.
The former soldier said many Zipra veterans were cheated out of State pension by their superiors.
"There was a time when ex-combatants had five, 10 and 15 years added to their service in the national army depending on their ages so they could receive reasonable pensions. At the time of the declaration, we were not told how the thing worked. We were asked to state our ages and those of us who stated our correct ages were given five years," Makhuya said.
"Our colleagues from Zanla who had been tipped about the issue gave older ages and had 10 years added to their service. Those 10 years plus that they had served qualified them for State pensions while most of us remained in the cold."
Makhuya, who served 11 years plus the five added years, fell short of the required 20 years to qualify for a State pension.
He now only gets a $140 monthly gratuity and $40 for injuries suffered during the war which is not enough to fend for his family.
"The school fees benefit has not been paid and now we have letters from debt collectors who want their money. We received fees for the first term last month, but the third term fee was not paid," he said.
"We were told to collect letters at the offices to send to schools assuring them that the fees would be paid, but last year the government said those who did not pay fees should be taken to court. I have two children who are failing to collect their results for 'O' and 'A' Level exams because of non-payment of school fees."
Makhuya said there was a fund made available by the United Nations to pay war veterans, but it is not known where the monies are.
"South Africa and Namibia were given the same money to pay its veterans and because that money was used transparently, it benefited veterans and did not affect the economy. Now we are accused of bringing down the economy because there was mismanagement of the funds released by the United Nations," he said.
Another revolutionary Jane Ngwenya said she was happy that Zimbabwe was commemorating 34 years of independence.
Ngwenya, who now lives in an old people's home in Bulawayo, said the country was still reeling under challenges because the "enemy" was not happy that the country had attained independence.
"The young generation would say 34 years is a long time; what have you achieved? But there have been impediments that the enemy has caused. You say we have not achieved anything but when we took this country, we had nothing and there was nothing in the country," she said.
"There is a lot that needs to be achieved, but we thank the Lord for a leader like President Robert Mugabe. He has withstood the challenges imposed by our enemies. If he only served for five or 10 years like what your new Constitution suggests, we would have not achieved what we have."
Ngwenya said had the 10-year rule been followed from the beginning, Zimbabwe would be having a fourth president, but little problems solved.
She said the country was now fighting for economic freedom for the empowerment of the people.
Ngwenya said while other luminaries cry that they have been forgotten by the government, she was happy that she fought the enemy to gain independence.
"I am not disputing that some fighters are suffering. Some have made complaints and asked for assistance from elders. Some would come here and pretend to feel pity for me that I have been forgotten but I chose Zimbabwe; I chose to fight for my country. I could have remained at home and become rich and educated like some, but I chose to liberate my country.
"I will live the life that is there in Zimbabwe. We want Zimbabwe to go forward.
"We fought the white man to gain our dignity which we have. When we got independence, our people were not educated and we did not have schools and hospitals.
"Technical subjects were not taught to blacks. We were taught only to respond to the master when given orders," Ngwenya said.
She added it would take time for the country to achieve all its goals adding that whites had not achieved everything they wanted in their 100-year rule of the country.